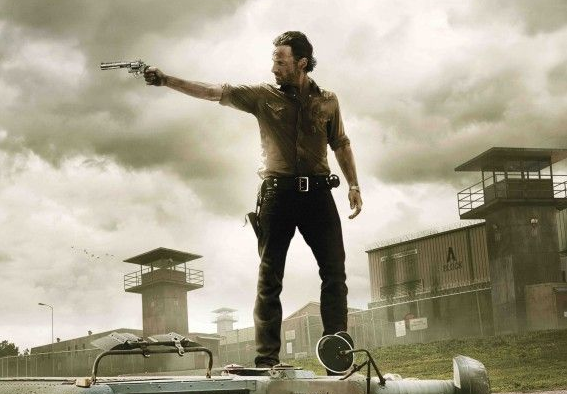 Probably some kind of gun safety lesson to be gleaned here.
This Sunday evening, The Walking Dead returns to AMC to begin its fifth season. In the coming weeks—as we watch Rick Grimes, Daryl Dixon, Michonne and the rest of their band of beaten-down survivors trudge through a world full of death while acting kind of like actual human beings—we're certain to learn a lot about not just their world, but our world.
In the past four seasons, we've already received so many valuable life lessons. Here are just seven of the more profound ones:
1. The world is a relentlessly bleak wasteland full of hideous monsters who are mindlessly bent on devouring your life force.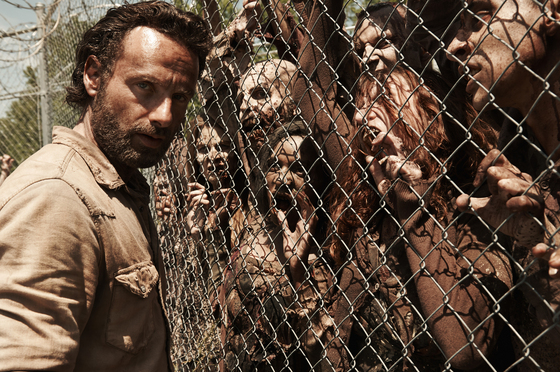 On the show, they're gnarled remnants of the well-meaning people they once were who shamble through the world smelling of rotting meat. In real life, they're gnarled remnants of the well-meaning people they once were who shamble through the world smelling of KFC's Double Down Sandwich. Whether the people around you are trying to eat your entrails or steal your good ideas at work, they're all really after the same thing: dragging you down into the same miserable existence as them. As long as you're aware of this you can fight them off. If you forget for one minute—BAM!—you're a zombie, too. (Interestingly, this is also the central life lesson of pretty much every television show, movie, books and New York Times Op/Ed column.)
.
2. The thing you're looking for is quite often in the last place you'd think to check.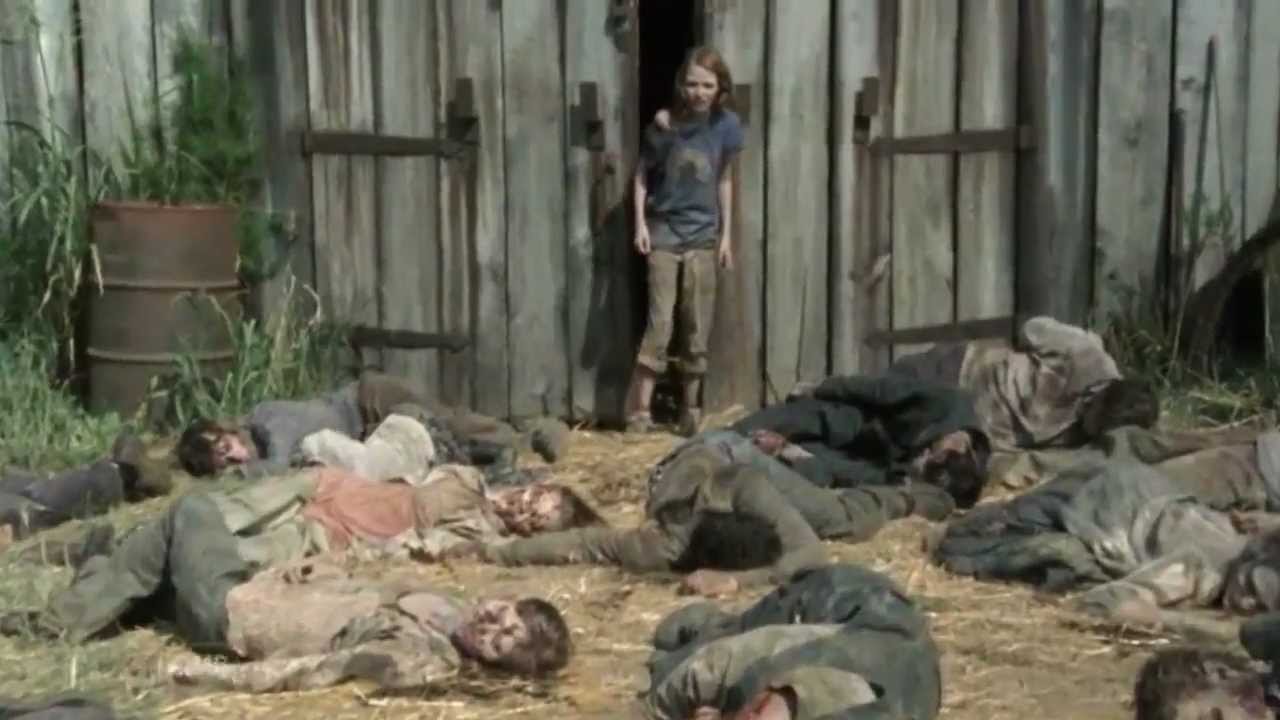 Have you misplaced something? Your earphones? A favorite paperback? A member of your band of survivors? Here's a novel idea: instead of wandering all around the city looking for your missing item, why not take a nice, solid look at your immediate surroundings first? Sure, it might be more comforting to believe that your headphones fell out of your pocket while you were buying coffee at Starbucks than considering the possibility that you're too dumb to remember sticking them in your back pocket. And, sure, the young woman from your group probably isn't milling around inside a foul-smelling barn with a bunch of other walking cadavers. But what if she is? Taking five minutes to check could potentially save you a half-season worth of boring cyclical narrative.
.
3. It's okay to say 'no.'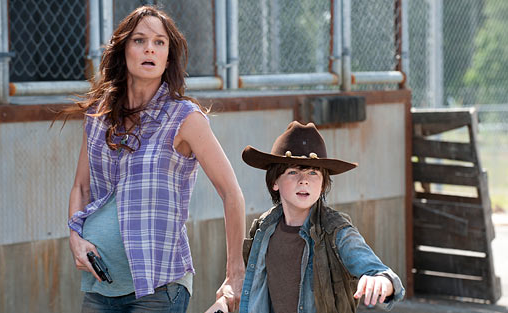 Sometimes life hands you an opportunity. Something that seems too good to pass up. And, although the current circumstances of your life might not seem ideal for grabbing this opportunity with both hands, you think to yourself, "Can I really say 'no'?" Yes! You can say 'no'! You really can. Sometimes 'no' is the most positive answer you can give. You really don't need to give birth to every baby conceived with your husband's best friend during a zombie apocalypse. If you say 'yes' when your gut says 'no,' you just might end up forcing your preteen son to put you out of your misery after you receive a c-section in a dirty boiler room with no anesthesia. Just saying.
.
4. Know when to give your loved ones a little space.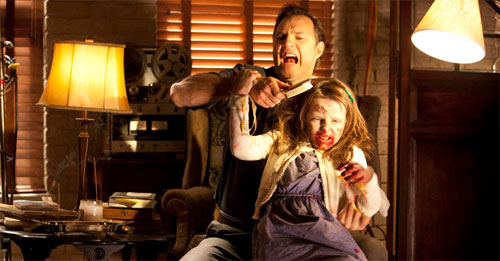 Kids. They grow up so fast. Before you even know what's happening, your daughter has outgrown her dolls and toys and now all she wants to do is tear at your flesh and sink her jagged teeth into the soft meat of your face. You can try keeping her chained up in a closet all you like, but that's really only prolonging the inevitable moment when somebody comes along and puts a samurai sword through her muldering skull. And then you wind up on a maniacal quest for vengeance against a group of malevolent outsiders when you could have lived happily as the godhead of your ersatz city-state. It's not worth it. Let your children go.
.
5. Don't temp fate.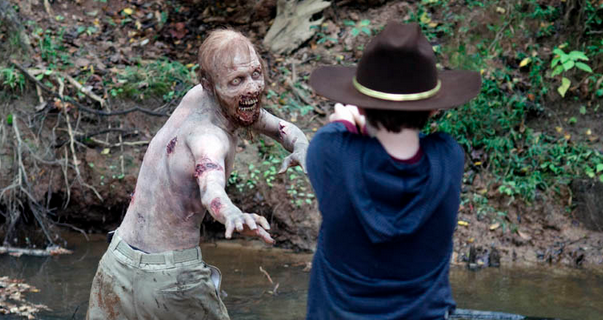 This bit of wisdom is sometimes referred to as "Don't press your luck" or "Don't poke the zombie." There comes a time for all of us in which we encounter our own personal zombies stuck in the mud in the woods of our lives. In these moments, we're given a choice: go back to camp and continue on with our lives, well aware of the dangers this world; or we can taunt that zombie with a gun until it wriggles itself free and then follows us back to camp and bites the beloved old crank of our group. The choice is all of ours. What will you do?
.
6. Speak up!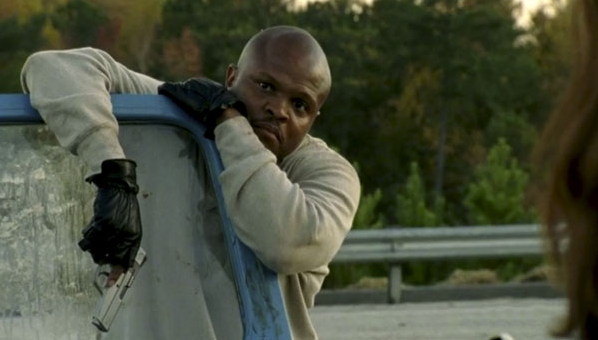 You need to make your presence known to the people around you, or to whatever ethereal television audience might be watching you. Regardless of how often you're hanging around, off in the corner of the frame (so to speak), if you don't contribute some dialogue to the conversation, it'll be so much easier for the powers that be to kill you off and then move on with the story as though nothing even happened. Metaphorically speaking, obviously.
.
7. It is easier to ask forgiveness than permission.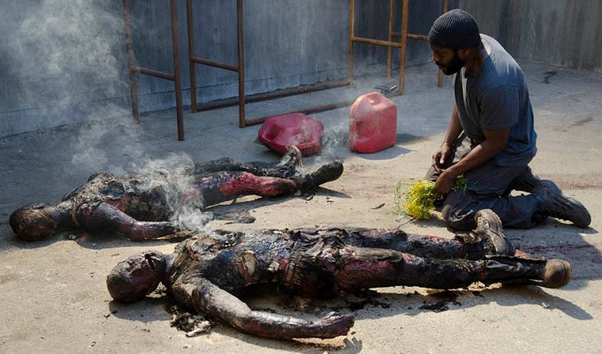 Let's say you want to murder two of your friends who happen to have contracted a deadly virus and then drag their bloody bodies out to a clearing and burn their corpses into ash. If you ask the people around you, they're probably going to say no. But if you just do it, and then wait several months to confess your deeds to the grieving romantic partner of one of those dead people, he might just be thoroughly jaded by the horrors of the world enough to forgive you. 
(by Dennis DiClaudio)