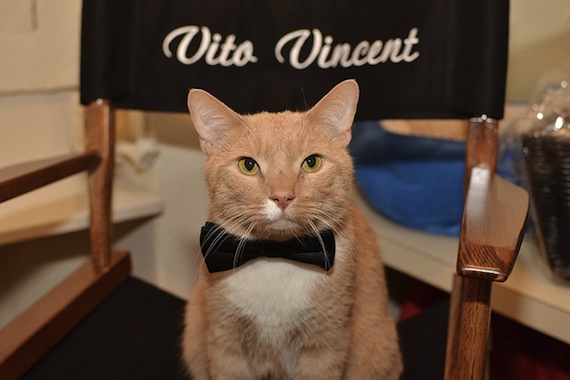 Those eyes, those whiskers. What a heartthrob. (Photo by Macey J Foronda, Buzzfeed)
A Broadway production of "Breakfast at Tiffany's" opened this week to mixed reviews. The only thing critics weren't mixed about: the cat in the role of Cat stole the pretty bad show. Here's what critics are saying about Vito Vincent, a well-groomed feline who also happens to be a snappy dresser:
"That cat exuded an enviable air of devil-may-care independence as it zipped off the stage. Maybe it should have played Holly. In any case I knew I wanted to go wherever that cat was going." -The New York Times
"The ginger tom playing protagonist Holly Golightly's cat, the "poor slob without a name," is a scene-stealing treasure in his few minutes of stage time. Pretty much everything else is harder to love." -Hollywood Reporter
"And a ginger-colored cat named Vito Vincent steals a couple of scenes that would not overextend any self-respecting theatrical feline." -Chicago Tribune
When he moved to the mean streets of New York from a small town in Kansas (probably), Vito could never have predicted he'd actually reach his dream and end up on Broadway. Now he's so successful that he's requested his own car and driver. Well done, Vito. You've brought some small amount of good press to a production that will probably go dark the second you leave for bigger projects, like The Lion King. Check out BuzzFeed for more backstage photos.