"Life moves pretty fast. If you don't stop and look around once in a while, you might realize you're 30 and haven't accomplished anything since the Bush Administration." - Some 48-year-old guy named Ferris.
2005 was 10 years ago. This might seem obvious, since it's 2015. On the other hand, it's not obvious because I was 20 in 2005 and I'm pretty sure I'm 20 right now. Hold on, let me check. Shit. Turns out I have obeyed the laws of time despite my badass nature and now I'm just a 30-year-old in a 20-year-old's Threadless.com t-shirt. Hold on, let me check if Threadless still exists. They do! In case you, too, have forgotten that time continues to flow around you, here are 10 jarring reminders that a decade really has passed since you vowed never to age another day.

1. The Star Wars franchise was mercifully laid to rest after being tortured like Luke Skywalker at the hands of Emperor Palpatine and aging about as well as...well, as Emperor Palpatine on a lightning bender.
Revenge of the Sith was the most well-received of the Prequels That Never Should Have Been, but I'd have to go back and re-watch it to determine if the praise was genuine or mostly due to relief at finally reaching the end of George Lucas' CGI-filled revisionist fever dreams. It's hard to imagine now with the excitement over The Force Awakens, but in 2005 no one was saying "More Star Wars movies, please!"
2. The world started spelling "bananas" out loud, and never stopped.
When it comes to background music, "Hollaback Girl" is to sporting events, girl-movie montages, lame clubs and frat parties what "The Girl from Ipanema" is to elevators. Less annoying than 2000's "Who Let The Dogs Out?" and less party-specific than "Let's Get It Started" (and much crowd-friendlier than "Let's Get Retarded"), it's estimated that everyone born before 2010 will have to die before saying "bananas" in a big enough room will not get "b-a-n-a-n-a-s" chanted back at you.
3. The idea that cable news is just 3-day-old blog content was still brand new.
I'm not saying I'm influential enough for a news producer to take my content to fill up 5 minutes of the 24-hour scheduling void they have to plug every day...I'm just saying that if this post does well, expect Fox and Friends to do a segment on how a decade has passed since the good old days of rampant real estate speculation and the peak of Iraqi sectarian violence. Speaking of which...
4. USA says "Meh," declares WMD to be NBD.

This guy looks like Mr. Rooney. Also in 2005, we didn't know Mr. Rooney was a pedophile.
(via BBC)

Ha! Ha! Ha. For those of you with terrible memories, we went to Iraq because of 9/11. (That was a joke, because although heavily implied, that was never the reason.) For those of you with better memories, we went to Iraq to find Weapons of Mass Destruction that were being aimed at the US and our allies. Or, in other words, for no reason at all. Oops, I mean "for freedom." Of course, ISIS may buy nukes on the black market, so we may be right yet!
5. The last pre-YouTube viral videos shaped us forever.
Some of our most iconic viral videos came out right before YouTube became actually popular in late 2005. I've already written about several, like "Numa Numa" (uploaded in December 2014 to Newgrounds), and more recently, "Leeroy Jenkins" (uploaded May 11, 2005 to WarCraftMovies.com). Since they were still popular at the time YouTube gained steam, they led second lives on YouTube itself. These videos still inform the tone of Internet videos today. Although old viral hits still do well on YouTube, imagine how much further Homestar Runner or Fenslerfilms' G.I. Joe PSAs would have spread if they came out just a year or two later. Not to mention really old stuff like "TROOPS," the video that helped launch online fan films. Oh, and the "HEYYEYAAEYAAAEYAEYAA" video? Originally uploaded to Something Awful in early May 2005, although many falsely believe it came from Ebaumsworld. I hope those words made you feel old.
6. YouTube suckered humanity into putting all its videos on one site, vastly simplifying the tasks of copyright lawyers and racist commenters everywhere.
OK, you probably realized that YouTube was launched 10 years ago, because there have been a lot of articles about how it's been 10 years since YouTube launched. So, I'll just post this exhaustive but entertaining look back at it so you can remember just how much of your life has been given to this URL.
7. Weezer releases their last significant hit.
Weezer is the Green Day of people 10 years younger than people for whom Green Day is their Weezer. Neither is their mini-generation's greatest band, but boy do they both sound exactly like the moment they came out. Not like they're timeless, but like, "yup, suddenly I'm back at the mall in New Jersey and it's 2005 again." Anyway, 2005's Make Believe was their last album to go platinum. They did release The Red Album in 2009 (and Rivers Cuomo sang on B.o.B.'s "Magic"), although I couldn't have told you that without Googling. Apparently, "Pork and Beans" topped a chart or two, but even though it's the only major Weezer song released in the YouTube era, it's #19 on the list of popular Weezer videos, behind every song you actually remember.
8. Layer Cake shows the world that Daniel Craig has what it takes to prevent Idris Elba from being James Bond.
I kid, of course. A little. Being Bond for as long as Craig has now (9 years) is a big accomplishment, and if a lesser actor was handling the franchise, it'd probably have been passed off to Idris Elba because he is British charm and fashion distilled into a human. But it was Layer Cake's 2005 US release that first showed Hollywood that Daniel Craig would be the first blonde Bond, and that Idris Elba would just have to settle for being suave and handsome in real life.
9. Team Jen forms.

"I'm going to divorce Brad Pitt." - the thoughts of the awesomest woman alive. (via BBC)
On March 26, 2005, just two and a half months before the release of the Brad Pitt and Angelina Jolie spy-movie-slash-documentary-about-cheating-on-Jen, Mr. & Mrs. Smith, Jennifer Aniston applied for a divorce from Brad Pitt. That's right. Jen applied. Because she knew what was up, god dammit, and she's too good for that. She's still too good for that. 10 years later, Brad and Angelina are burdened by children and charity, but Aniston? She can star in any f*cking movie she wants because her life wasn't consumed by living in her partner's self-righteous butthole all day like those two. Jerks.
10. People were still a year away from sending some e-cards.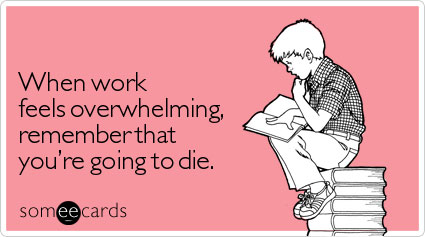 One of the first from 2006 (re-uploaded in 2007). Still relevant here in the office.
I know, crazy right? I hope this last one doesn't seem like a cop-out, but I was legitimately surprised to find that the company I work for is less than a decade old. I mean, the instantly recognizable cards seemed like they had always been part of the Internet when I joined in 2012.
Bonus: Things I didn't feel like adding.

Camera phones really hit their stride. The Office (American version) started. Michael Jackson was facing his last child molestation trial. The fourth-generation gaming consoles (XBox 360, PS3) were unveiled. Chris Rock hosted the Oscars for the final time. The Huffington Post started as a celebrity blog. PerezHilton.com (then PageSixSixSix.com) started in 2004 but gained fame in 2005. I dunno, I'm sure Justin Timberlake was up to something.