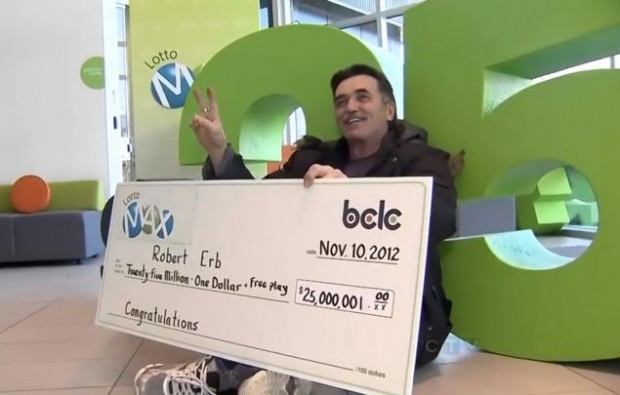 Bob Erb, Good Tipper. (Via CTV)
It's always nice to see a lotto winner who manages to not set himself on fire, but this goes above and beyond.
Bob Erb is a pot activist from British Columbia who won a $25 million jackpot in the Canadian lottery last year. About a week ago, Erb was traveling through Saskatchewan on his way to bury his father's ashes. He stopped at the Old West Express diner where he had a conversation with the owner, Cliff Luther, and learned that Luther's 25-year-old daughter is also living in B.C., and she was recently diagnosed with cancer.
The news reportedly resonated with Erb, as he had lost his 26-year-old son to cancer four years ago. Erb continued on to his destination, but returned to the diner a few days later for a burger and fries. When the bill came, Erb paid with a check for $10,000 and told Luther to "take the bill out of that." Luther told The Ottawa Ciizen that Erb said, "If you need to get out there quickly [to see your daughter], this will help you."
Since he's a Canadian pot actvist, you can go the boring route and use this story to further reinforce the "man, Canadians are really polite!" stereotype. We, however, are always looking for new blanket generalizations to embrace, so we prefer to go with, "Man, smoking pot makes you really generous and it should be legalized, (especially here in New York since our new delivery guy has a lot of stories he wants to tell before taking our money and leaving our apartment)."