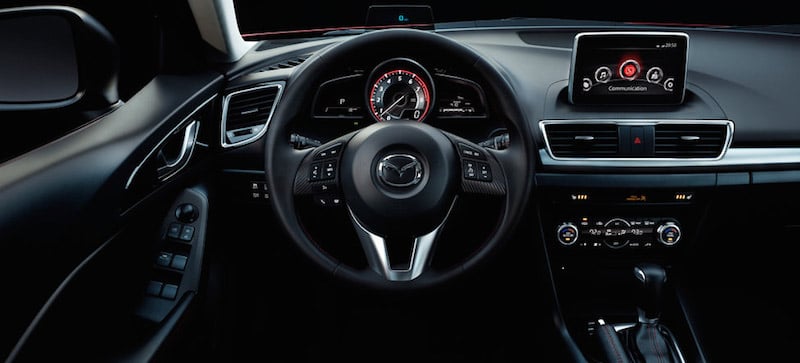 Take me to your dealer. (Via Mazda)
The terrifying promise that one day machines will take over and kill us all is getting nearer each day, and the people who are willing to submit to their robotic authority will be the first to go.
Like New Zealand couple Mollieanne and Brian Smith, who nearly fell prey to their cold, unfeeling Mazda 3 hatchback.
The couple found themselves inside their new "keyless" car in their garage on November 5th, and without their transponder, believed there was no way to get themselves out. They were trapped by automation.
The NZ Herald reports that Brian and Mollieanne attempted to free themselves from the clutches of their metal overlord by "sounding the horn and trying to smash a window with a car jack," but their attempts were futile, as their lifeless Mazda refused to be breached, and also it was Guy Fawkes night and nothing could be heard above the fireworks.
Disguising a murder under the distraction of fireworks... this car had the same strategy as the Menendez brothers. Did this automobile gain consciousness, or were the sibling killers robots?
By the time the car's victims were discovered by neighbors at 7:45 am, 13 hours since they first were trapped, Mrs. Smith had become unconscious, and Mr. Smith was struggling for air. The wife spent three days in a hospital recovering from her robotic attack. Doctors said if they had spent even another 30 minutes inside that car, they would have died.
They are both fine now, though definitely changed from the experience. And they have learned that "the manual lock was the same as the inside door handle on many other vehicles."
Of course. It's so obvious, and yet... so obvious.
"Once I found out how simple it was to unlock it I kicked myself that I did not find the way out," Brian tells the NZ Herald. "I had this mind-set that I did not have the transponder [so I could not get out]."
If it could think, that's exactly what the machine would have wanted him to think.