(by Shira Rachel Danan)
"Why Am I Trending?" gives voice to the people, organizations, and events that are trending topics right now, so they can explain why everyone is talking about them.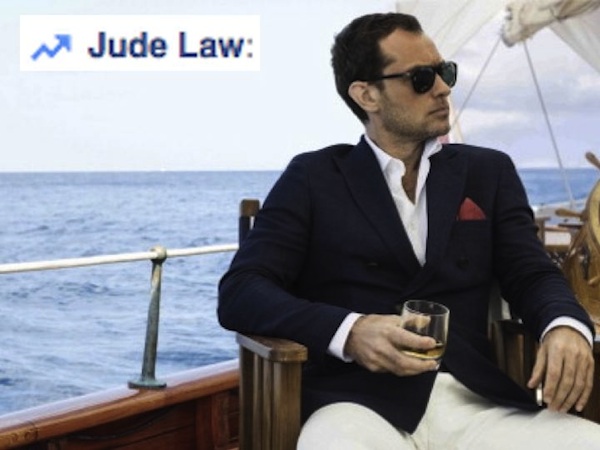 Allow me to #impregnate you. (Getty)
Hello. My name is Jude Law, and I'm trending because I've just announced that I'm expecting my fifth child. 
There comes a time in every man's life when he needs to think about his legacy. How will the world remember me? I will, of course, be remembered for my exquisite cheekbones, my razor sharp jaw, and the way a suit hangs back bashfully from my pectoral muscles, not wanting to obscure them. Also, I'm an actor, so my films will remain forever as a safeguard against the long shadow of time. (Except maybe for Alfie.)
But a man's greatest legacy is his children. Yes, there's Rafferty, my eldest, and his siblings Rudy and Iris, by my ex-wife Sadie. And of course there's their half-sister Sophia, the result of a dalliance with model Samantha. But do any of them really have the strength of character to carry on the Law family name? Am I truly expected to put my dynasty in the hands of a child called Rafferty?
I'm 41 years old. And while it's true that I only become more attractive with each passing year—every deepening line in my forehead somehow enhancing instead of detracting from my perfect face—I am not getting any more virile. Which is probably a good thing, because if I was more virile, I might spontaneously combust. 
My point is, I have no choice but to spread my DNA like so many dashing British dandelion seeds in the wind. Sometimes they land on the fertile ground, and sometimes they land in the uterus of 23-year-old singer-songwriter Cat Cavelli. The rabble will no doubt joke that I should learn to use condoms, as if my sperm couldn't charm their way past a flimsy piece of rubber. 
I have no time for their jokes. I'm too busy impregnating the most beautiful women on the planet. 
May my name never die,
Jude