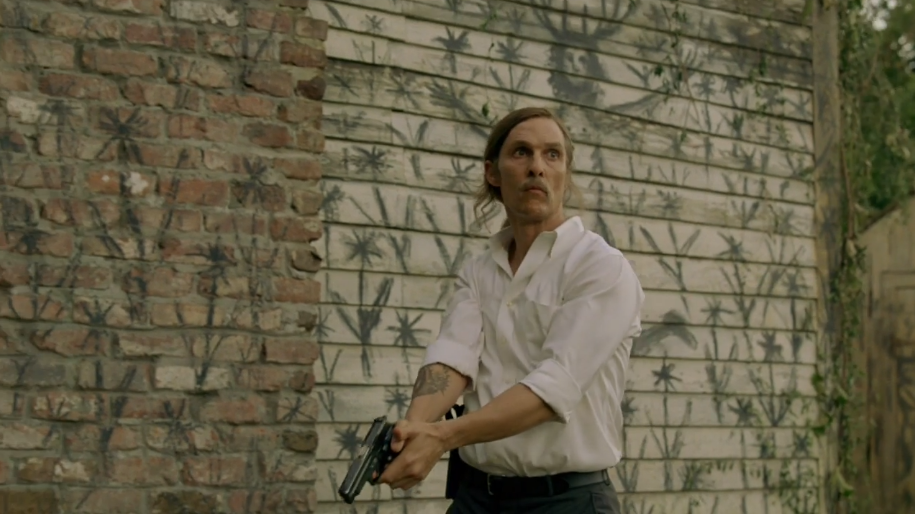 What Rustin Cohle's fate could have been if only... 
Apparently, a lot of people were a bit less than thrilled with the somber, naturalistic finale to the first season of HBO's breakout hit True Detective. In an interview with HitFix's Alan Sepinwall, the show's creator Nic Pizzolatto hinted at several alternative endings that were ultimately scrapped. Granted, there's no way to be certain about this, but I'm certain that these are those alternative endings:

1. The Enemy Within Ending. Cohle follows a cloaked figure through the dilapidated ruins of the lost city of Carcosa, located deep within the swamps of Louisiana. After chasing the swaying yellow robe around turns and down darkened stairwells, he finally finds it trapped in a dead end corridor. Approaching cautiously, he reaches out a tenuous hand to pull away the cloak. Beneath the fabric, he finds a mirror. In it, he sees his own reflection. He drops to his knees and shouts out "NOOOOOOOOO!!!!!!!" Slow dissolve to the swampy landscape. Credits.

2. The Set-Up Ending. Seeing Cohle and Hart approach his home, Errol Childress grabs his half-sister and pulls her kicking and screaming out to an airboat he keeps docked in the swamp behind their home. Hart catches sight of them just as the boat's massive propellor begins to spin. "So long, old chaps!" Childress yells out in his best James Mason voice. "That river leads directly to Mississippi," Cohle says. "Out of our jurisdiction." Marty stares at the vanishing craft and says, "Maybe there's two other detectives in Ol' Miss who can pick up where we left off." Fade to black. "True Detective: Season Two... Coming in 2015."

3. The Tyler Durden Ending. Martin Hart sits on the blood-stained ground as his partner Rustin Cohle bleeds out in his arms while police swarm into the room. "We did it, Rust," he whispers into his partner's ear. "We did it." A confused Detective Papania asks, "Who are you talking to?" Hart looks down into his empty hands. SMASH CUT to a montage of scenes from the previous eight episodes, but now there is no Cohle to be found. Hart is alone, talking to no one. Dissolve to Hart in a mental institution laughing alongside an empty chair. 

4. The Undead Ending. Charging through the underground tunnels of Carcosa with a hatchet, Errol Childress comes within inches of killing Cohle. But just before his dull blade connects with the old drunk's head, he's knocked backwards, the air filled with smoke and a mist of blood. Marty Hart stands in the doorway brandishing a shotgun. "That ought'a stop him," he says. Cohle points and screams, "Behind you!" The hatchet comes smashing through his ribcage. Childress's grinning face emerges from behind Hart. "You can't kill what's already dead," he gurgles. And then he's gone. Dissolve to Cohle at Hart's graveside just after his funeral. The disaffected atheist turns to a priest beside him and says, "Tell me everything you know about the living dead." Smash cut to black.

5. The Dark Mythos Ending. Rustin Cohle awakens from a coma in the hospital, with his partner Martin Hart beside him. "It's not over," he mutters. "While I was under, I traveled someplace. A place outside of time. A saw the malformed elders of Carcosa. I watched as they knelt down before a putrid yellow beast with tentacles atop his head like a crown. I saw them, Marty. I saw them all." A very confused Hart asks, "What exactly are you saying?" Cohle looks him directly in the eye and says, "We need to find a transdimensional portal." Cut to black.

6. The Flat Circle Ending. Cohle chases Errol Childress through a deep forest that ultimately opens onto a field with a lone tree. A naked woman kneels at its base, antlers fastened about her head like a crown. Cohle peers out from the thick brush as two young detectives approach her. They are Martin Hart and Rustin Cohle. The year is 1995. Something terrible has just happened. The older, grizzled Cohle drops his gun at his side and mutters, "Not again." Slow fade to black.
(by Dennis DiClaudio)