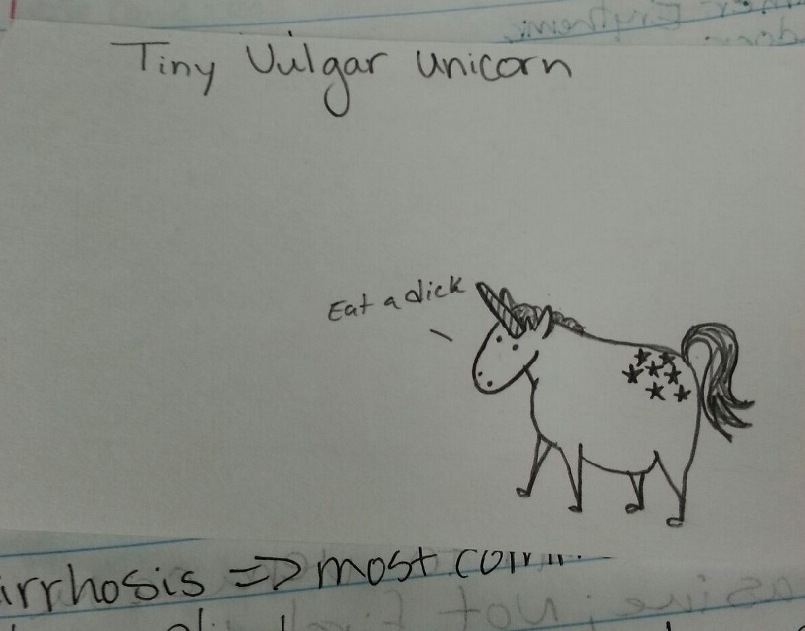 Tiny vulgar unicorn! That was very inappropriate! Still adorable, though. (via redditor Shoccwave)
Redditor Shoccwave has a wife. Like many people who are married, they seem to really like each other. Shoccwave's wife (who has since been identified as redditor baconmeupscotty) chooses to express this like for her husband by leaving him surprise doodles. Says Shoccwave, "They just kind of randomly show up. Sometimes you have to wait a few months, sometimes you only have to wait a day or two. Kind of like a shooting star." Aww.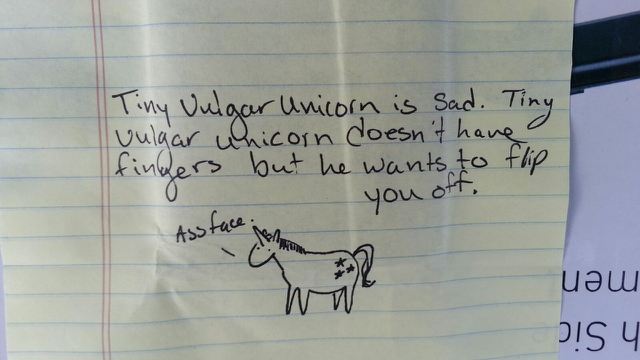 Recently, however, the drawings have been dominated by a single character: Tiny Vulgar Unicorn. He's very aggressive, he's not very happy with anyone, and he's not afraid to show it. Shoccwave doesn't think Tiny Vulgar Unicorn will continue for much longer because he's such a dick. Shoccwave clearly doesn't understand how show business works. In my opinion, if Hollywood agents haven't swooped in to sign TVU by now, I've lost faith in our culture. 
Check out the full gallery here (kinda NSFW):
As a bonus, this is what TVU had to say to someone on reddit who questioned whether he was lying about having no fingers (way more NSFW than before):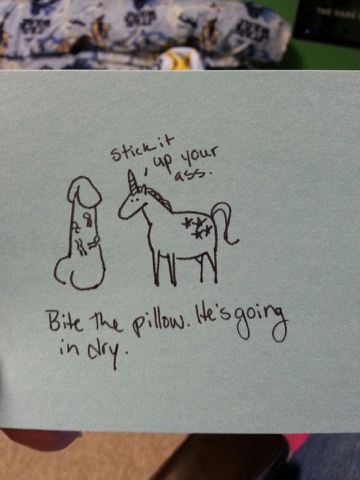 Jesus, TVU. Too far. That's what they pay you the big bucks for, though.
(by Johnny McNulty)