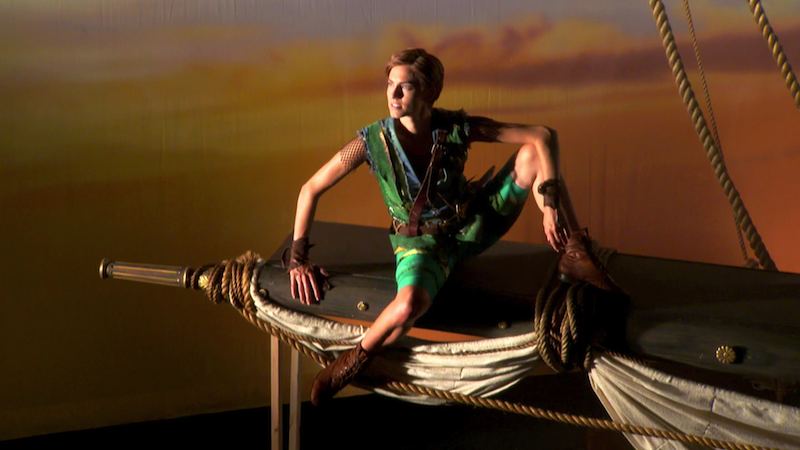 (via NBC)
While Peter Pan Live! didn't hit the same ratings highs as last year's Carrie Underwood-starring The Sound Of Music Live!, NBC's live-broadcast teleplays have proven themselves a winning combination of star power and high-production-value theatrics, and so we'll likely be seeing them for years to come. That's fine by me, so long as someone at NBC has the good sense to air any of the following:

A production of David Mamet's abrasive classic Glengarry Glen Ross using the magic of trick photography to star an all-Paul Giamatti cast.
A showing of the 2012 Les Misérables movie in front of a live studio audience of raucous and riled chimpanzees whipped into a howling frenzy by Russell Crowe's uneven vocal performance.
A cover-to-cover dramatic reading of Milton's Paradise Lost by a visibly anxious and unwell Jim Carrey. He does all the voices, and makes fun Satan faces, but occasionally he'll wince and whimper as a laser dot moves across his forehead. "Help me," he'll mouth.
Peter Dinklage stars in an avant-garde production of Jesus Christ Superstar, featuring an entirely little person cast, an entirely Aramaic script, and Peter Dinklage's exposed dingus strapped to a tiny little crucifix.
Sylvester and Frank Stallone race to scarf down a couple big sloppy chicken parm hoagies and complete 100 burpees in the NBC parking lot, on camera.
Jack Black is Johnny Rent in RENT: The Story of Johnny Rent! How's Johnny Rent gonna pay his rent? With the help of all his gay artist friends, of course! (It's clear from start to finish that NBC did not successfully acquire the rights to RENT)
Manny Pacquiao fights the 2012 US Olympic women's gymnastics team (the "Fierce Five") on the set of Oklahoma!, followed by an abbreviated performance of Oklahoma!
Michael Jackson's 4D sci-fi spectacular Captain EO roars back to life, daringly re-imagined as a series of live 10-minute singing-and-dancing ads for the all-new 2015 Scion xB.
Idina Menzel steps back into the role that catapulted her into the public eye in an unprecedented blockbuster production of Wicked performed on a stage sinking slowly into the La Brea tar pit.
Megan Fox reads from her diary for a couple hours. Greg Proops sits on a nearby stool and slings bitchy commentary.
An all-cat production of Caberet, but it's called Cat-beret, and the cats have berets, and half the cats are people-cats, like from Cats, but with cat-sized berets (the size of beret a cat would wear) and half the cats are regular cats, but with people-sized berets (the size of a human being). It'll work, trust me.
Nick Jonas throws the switch to electrocute a convicted felon and cries a lot, and the camera just zooms in slowly on his face, all snotty and sobbing.
Patrick Stewart wakes up confused and groggy in an empty locked room with cryptic symbols tattooed on his arm, and we all get to watch that play out on hidden cameras and have ourselves a good laugh. "Can anyone hear me? Is anyone there?!" Ha ha!
The Book Of Mormon, except for the cussing parts.
Follow Dan Abromowitz on Twitter