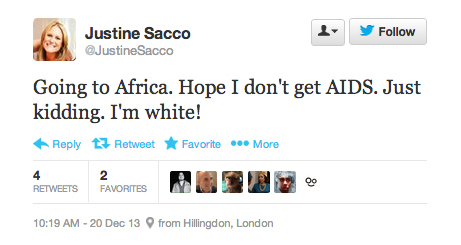 Oops.
If you had family to pay attention to or Christmas presents to shop for this weekend, or you were just too focused on Miley Cyrus masturbating, you might have missed THE BIGGEST STORY IN ALL THE LAND. That story: A woman most people never heard of tweeted something.
Valleywag broke the story on Friday that Justine Sacco, a PR executive with IAC (owner of sites like Tinder, OKCupid, The DailyBeast), fired off a tweet just before taking off on a flight to Africa:
"Going to Africa. Hope I don't get AIDS. Just kidding. I'm white!"