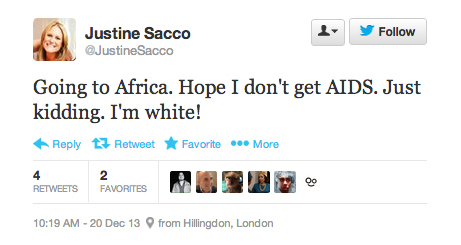 Oops.
If you had family to pay attention to or Christmas presents to shop for this weekend, or you were just too focused on Miley Cyrus masturbating, you might have missed THE BIGGEST STORY IN ALL THE LAND. That story: A woman most people never heard of tweeted something. 
Valleywag broke the story on Friday that Justine Sacco, a PR executive with IAC (owner of sites like Tinder, OKCupid, The DailyBeast), fired off a tweet just before taking off on a flight to Africa:
"Going to Africa. Hope I don't get AIDS. Just kidding. I'm white!"
No matter how funny you think you are, if your job is in public relations for a major corporation, and you want to keep that job, you really shouldn't be tweeting out edgy jokes about AIDS in Africa. And if you're not a comedian, you should probably avoid tweeting out edgy jokes, period. They're probably not going to be taken very well, as Justine would soon realize (though not soon enough).
What happened next shows exactly how big this kind of thing can get if you let it. Following Valleywag's post, Twitter quickly rose up in arms against Sacco, as these tweets gathered by BuzzFeed demonstrate.
Is that tweet real? You work in PR. You shld know better RT @JustineSacco "Going to Africa. Hope I don't get AIDS. Just kidding. I'm white!"

— David Cohn (@Digidave) December 20, 2013
This lady is not very good at twitter dot com (ht @EvelynRusli) http://t.co/bocX18iaC8

— Anne Holden (@adholden) December 20, 2013
Justine Sacco should get fired....and get AIDS

— Baekwon (@AlexDa_Great) December 20, 2013
Oh. Hell. No. Did this Justine Sacco person just say that? Did she really fix her keyboard to type that mess? Whyyyyyyyy? You racist bitch!

— Ms. 3rd Ward-Lidah (@Lilikins8) December 21, 2013
Normally, all you have to do in this situation is delete the tweet, apologize, lose your job (probably), end of scene. Unfortunately, or rather, tragically for Sacco, she tweeted that right before taking off on an eleven hour flight from London to Africa, and there was no wifi on the plane. So as the Twitter firestorm grew, it's not clear she even knew what was going on.
Not long after the tweet was reported, IAC issued a statement to Valleywag distancing themselves from the tweet:
"This is an outrageous, offensive comment that does not reflect the views and values of IAC. Unfortunately, the employee in question is unreachable on an international flight, but this is a very serious matter and we are taking appropriate action."
When will the FAA's policy of allowing electronics use throughout the entire flight extend to all global carriers? We're all too stupid on Twitter to risk being offline for so long!
So, eleven hours without Internet or any way to quell the outrage, here's how things played out.
First, her name started trending globally. Then someone launched the hashtag #HasJustineLandedYet and man did it blow up.
Can we track her plane from above like with OJ? #HasJustineLandedYet

— CK (@GoodGirlRoxy) December 20, 2013
"You have 4563 new messages." — @justinesacco's phone #HasJustineLandedYet

— Mike Monteiro (@monteiro) December 21, 2013
Brilliant response mocking Justine Sacco's tweet. #HasJustineLandedYet pic.twitter.com/GvUidSA37F

— Africa is Home (@panafrikanist) December 21, 2013
Okay, this is kinda brilliant... #HasJustineLandedYet pic.twitter.com/i9g35aLard

— Scott James - Writer (@scottjames) December 21, 2013
Even the king of incendiary Twitter jumped into the fray:
#HasJustineLandedYet- Justine, what the hell are you doing, are you crazy? Not nice or fair! I will support @AidForAfrica. Justine is FIRED!

— Donald J. Trump (@realDonaldTrump) December 22, 2013
But still the Internet waited. 
I don't think America has watched a landing this closely since Apollo 13 re-entered the earth's atmosphere in 1970. #HasJustineLandedYet

— Kieran Healy (@kjhealy) December 21, 2013
And waited.
Internet processes things quickly--like faster than your flight. #HasJustineLandedYet pic.twitter.com/7d0AK9vbpr

— jason (@Jason) December 21, 2013
Until she finally landed and deleted all of her social media accounts. IAC issued this statement the morning after, announcing she'd been let go:
"The offensive comment does not reflect the views and values of IAC. We take this issue very seriously, and we have parted ways with the employee in question.
There is no excuse for the hateful statements that have been made and we condemn them unequivocally. We hope, however, that time and action, and the forgiving human spirit, will not result in the wholesale condemnation of an individual who we have otherwise known to be a decent person at core."
This tweet summed up just how quickly a hashtag can effect change, at least in some areas:
Amazing how #HasJustineLandedYet results in Sacco's firing in under 24 hours. Now, what about #HasABankerBeenJailedYet? #AnyBankerAtAll?

— Baratunde (@baratunde) December 21, 2013
Sacco finally did issue an apology, as reported by ABC News:
"Words cannot express how sorry I am, and how necessary it is for me to apologize to the people of South Africa, who I have offended due to a needless and careless tweet. There is an AIDS crisis taking place in this country, that we read about in America, but do not live with or face on a continuous basis. Unfortunately, it is terribly easy to be cavalier about an epidemic that one has never witnessed firsthand.
"For being insensitive to this crisis -- which does not discriminate by race, gender or sexual orientation, but which terrifies us all uniformly -- and to the millions of people living with the virus, I am ashamed.
"This is my father's country, and I was born here. I cherish my ties to South Africa and my frequent visits, but I am in anguish knowing that my remarks have caused pain to so many people here; my family, friends and fellow South Africans. I am very sorry for the pain I caused."
At least her apology was handled way better than Shia LaBeouf's.
And of course that took care of everything. JK! The Internet is not going to give up a feeding frenzy that easily, if this Facebook screencap of Sacco's profile posted by Slate is really hers: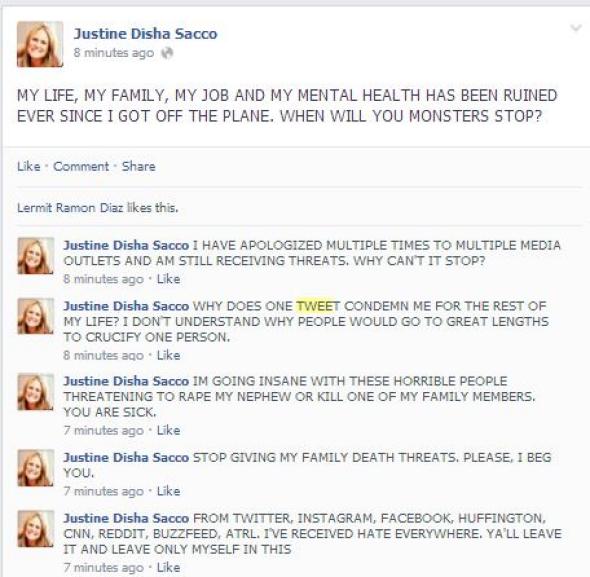 Well that went well.
So that's how one tweet and a lack of wifi can completely destroy a person. How about we all unplug and move into the woods and only speak to the animals from now on. Who's in?
(by Bob Powers)