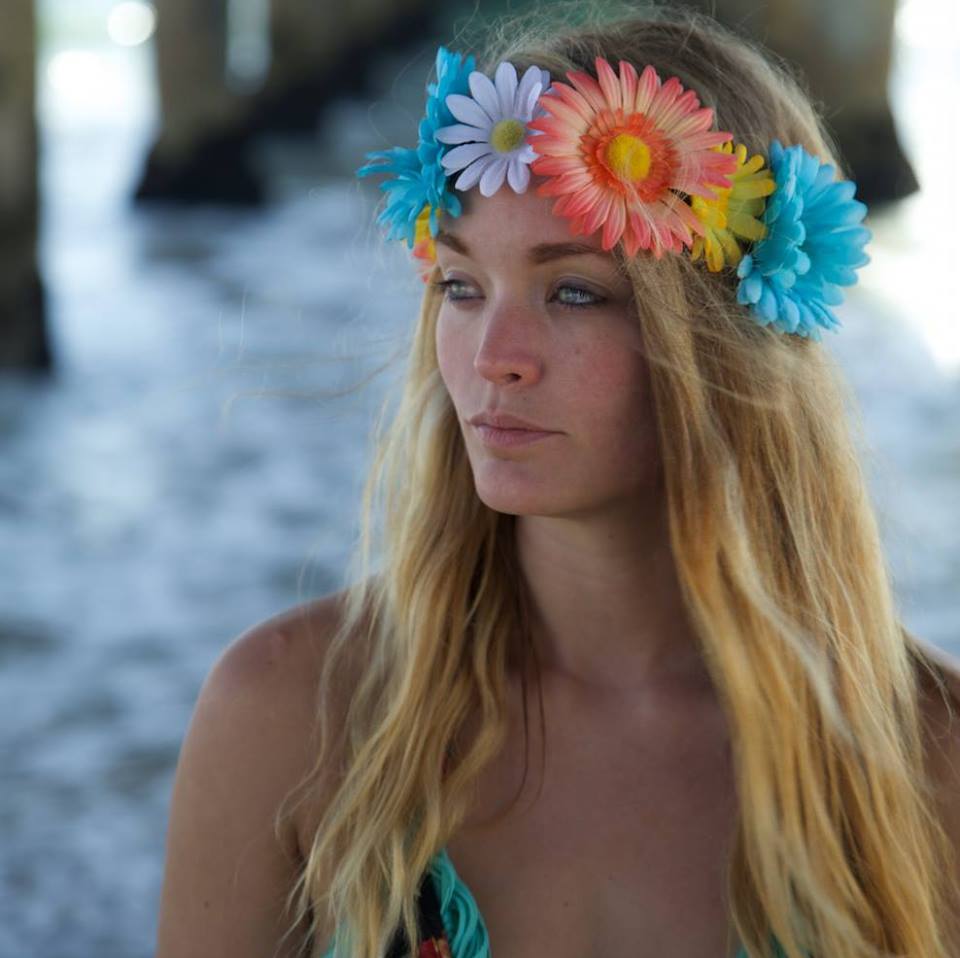 She has a faraway gaze because she is looking toward where her money went. (Via FB)
26-year-old Gabrielle Wathen went out on Halloween to celebrate her birthday, got too drunk to drive, and then decided to take an Uber home. Very responsible of her.
When she awoke, she found in her inbox a receipt for $362.52 for the ride home. Whoops. 
Yes, that is way too much money to spend on a car ride, especially if you barely have enough money to pay your $450 rent that is due that day.
After failing to convince Uber to reverse the charges (I'm not sure how well the "I was too drunk to care how much money I was spending" argument plays over there, but I'm guessing that irresponsible drunks are their biggest market), she took her troubles to crowd-funding website gofundme, a site generally used to raise funds for medical treatment or other unavoidable crises.
Her gofundme account page has since been taken down, but Business Insider captured what she wrote in her campaign description:
"Last night was Halloween. Great time. Today is my 26th birthday. Not so great time. I live in Baltimore and went out with my friends to celebrate my birthday at midnight. When 3 AM rolled around, I suggested we take an Uber hole [sic] to avoid drunk driving (#responsibility/#MADD). I live 22 minutes , tops, from the party I was leaving.

When I awoke this morning, I heard a friend talking about how outrageous Uber rates were the night before (9x original rate). I checked my bank account to, unbeknownst to me, I see a charge for $362. Not only is it my 26th birthday, it is rent day. My rent is $450 and I can no longer pay it today due to this completely outrageous charge.

I have had little to no luck in disputing this transaction.

I waitress at two restaurants and freelance for a City Paper. I worked incredibly hard this week to be able to enjoy my birthday this weekend. This misunderstanding has cost me 80% of the funds I have to my name (embarrassingly so) and I spent a good two hours of my birthday crying over it.

I feel taken advantage of and cheated by the Uber name. $367 for a 20 minute ride should never be justified, even on Halloween. Please donate even just $1 if you think this is utter and complete bullshit and also hilarious and very, very depressing at the same time.

Thanks for the ride, Muhammed."
By her account, she had taken that ride with her friends. Not that it justifies how expensive the ride was, but certainly her buds could have pitched in on her birthday.
Business Insider originally picked up the story on Instagram, where she also complained about her misfortune (this post has also been taken down):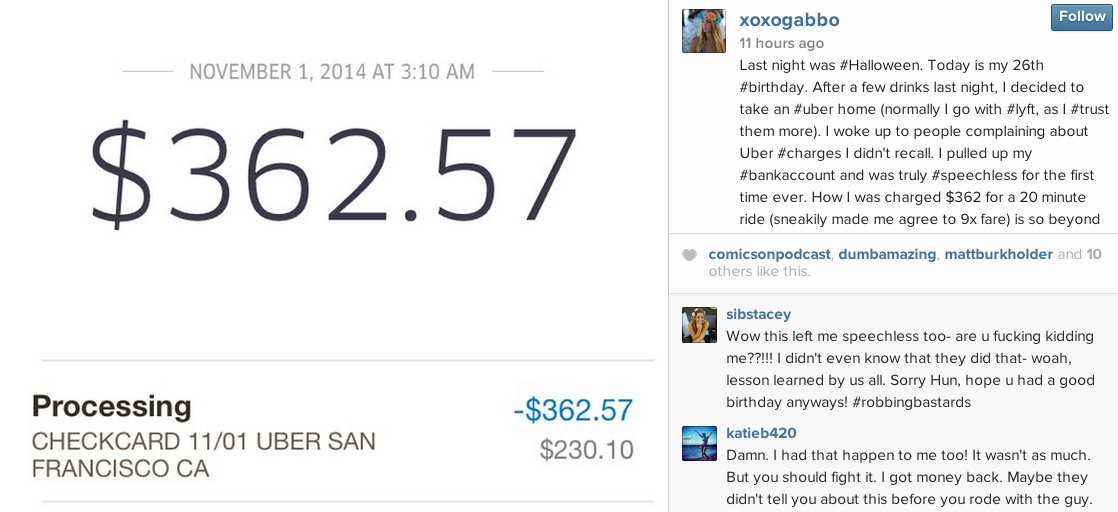 Her #hashtag skills are #sobeyond. (Via BI)
She claims Uber "sneakily" made her agree to a 9x fare. I've taken Uber when the rates are being multiplied, they make you type in the new rate by hand, to confirm you've agreed to it. Uber must have sneakily made her too drunk to not care about the rate increase. 
How could they do that to her? Those #robbingbastards are #unthinkable!
Don't worry about this poor girl, though. By the time B.I. picked up the story, she had raised $512.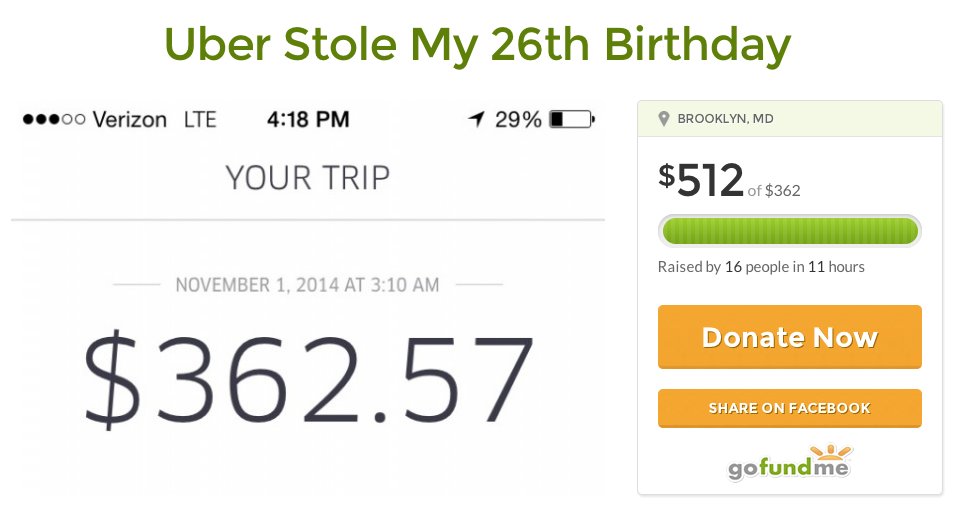 She only asked for $362. I guess she was going to pay the 57 cents out of pocket. (Via BI)
What? Really? Not only do people care about her drunken debacle, but they are willing to give her more money than it cost her? 
Inspired by her story, I also set up a gofundme account: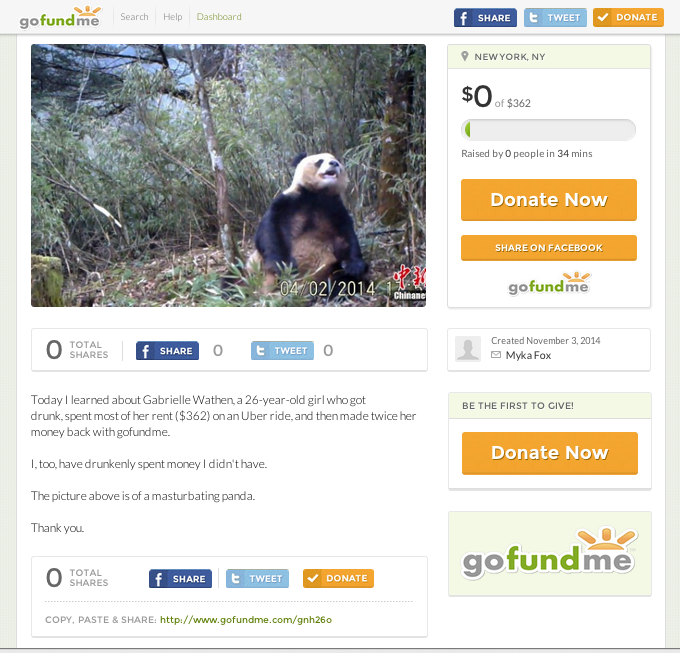 UPDATE: Gofundme has taken down my campaign, citing that it "violated their terms." :( 
#ThanksForTheRide
(by Myka Fox)