Here are spoilers for this week's cloying, deceptive Upworthy headlines.
But first, have you heard of Viralnova? Even if you haven't, you've probably clicked on one of their links. They do the exact same thing as Upworthy, luring clicks to heartwarming or outrage-inducing web content with cynical, "You won't believe your eyes and your life will change forever" headlines, and they're already really huge in terms of traffic.
But they're not a "they." The Wire reveals that Viralnova is one dude working out of his house in Ohio, who's made gaming the Internet his career. He's been involved in everything from Christian websites to porn link aggregators, and making money off of "life-affirming" Upworthy style shares is nothing more than his latest cash-flow venture.
Some say Viralnova is the worst thing on the web, but Upworthy's worse. Upworthy claims their hyperbolic feel-good machine is going to change the world for the better by simplifying complex issues into two-minute, "pat yourself on the back for sharing" clips, and as the messenger of those causes, the distrust the site engenders arguably does more harm than good to the message those clips are trying to spread.
Viralnova is doing nearly the exact same thing as Upworthy (with less of a reliance on videos from advocacy groups), but at least that guy is honest about the fact that he's just trying to make some cash. 
But enough about Viralnova, let's look at what your Facebook friends are going to share this week!
It's a PSA for the Fair Trade movement for more conscientious consumerism. The headline wants you to think it will be real kids telling adults what fairness means, a from-the-mouths-of-babes thing, but it's scripted. Kids are reading lines about being told to play fair, then it bridges into the idea of fairness to the farmers and workers who bring food to the supermarket, making sure they're fairly compensated and protected.
The author of the headline might not have watched the video, since the script is all about how we tell our kids to be fair, not that "life isn't fair." Don't get me wrong, I'm with the author on the "life isn't fair" thing, but that thinking would kind of be more in support of the argument against Fair Trade. Send this one back to the Upworthy headline testing department deep in a subterranean bunker at Langley.
Here's the video on YouTube if you'd like to learn about Fair Trade.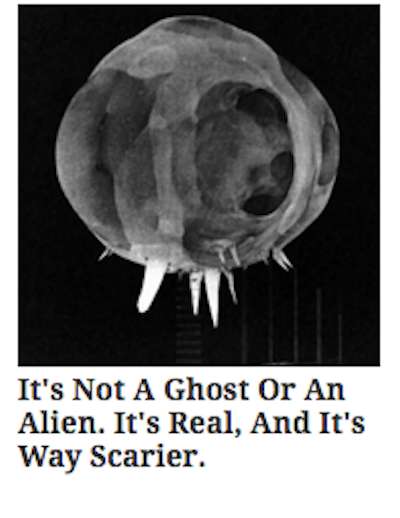 It's a nuclear bomb exploding. But way to rule out two things that don't exist (that we know of....spooky!).  The video is eight minutes(!!!) of a really hammy guy saying scary stuff about nuclear explosions, warning of accidental explosions that could kill us all. The headline writer decided to focus on the part where a nuclear fireball photographed at a shutter-speed of less than a billionth of a second looks like a scary ghost. Here's the video on YouTube.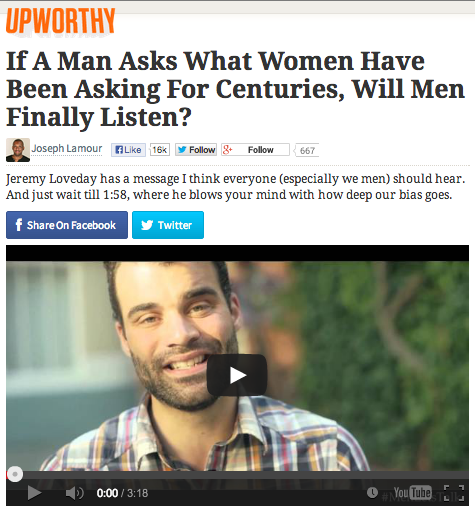 It's a kind of perfomance poem challenging men to be active to end rape culture. He doesn't really ask anything. It's more a rallying cry to get men to acknowledge how deep the acceptance of violence against women is ingrained in our society. The 1:58 thing won't blow your mind. He gives as an example of the prevalance of rape culture the fact that he called his undershirt a "wife beater." It's the third such example he provides and it's arguably not even the strongest. The author might have gotten the time-code wrong. Here's the video on YouTube.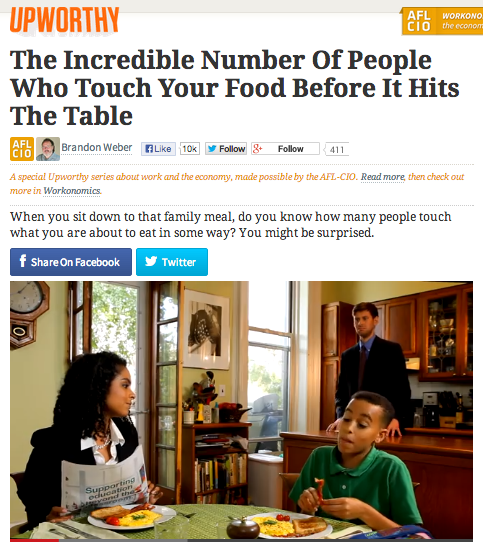 Well? Do you know how many people "touch your food" before it hits the table? Because this video won't tell you!
Wow, this video opens super-cheesy. It starts off "funny," with the kid asking "Where do babies come from?" The parents panic. Then he clarifies that he said "bacon," not "babies." Ha!
It's a video from Food Chain Workers Alliance about how workers involved in the food delivery chain, from the farm to the warehouse to the store or restaurant, make up the largest employment sector in the country, and how the majority of them are paid in poverty wages.
Sorry to any germophobes tricked by the headline into trying to find out how many "touches" your sandwich got. The video addresses something far more serious than that. Watch it on YouTube here.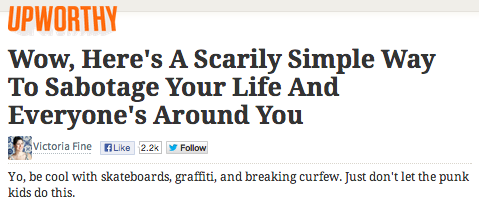 I can't for the life of me figure this one out. When you click, you don't get a video, you get this image:
That's all. So, is the headline telling you you'll "sabotage your life and everyone's around you" if you stop reading? And why does the subhead suddenly start talking about kids skateboarding and spraypainting graffiti? What the hell is going on?
The link at the bottom of the image (not hyperlinked on Upworthy) goes to the website devoted to a documentary feature called Beware Of Images, which is described as follows:
"A feature-length, animated documentary about the history of visual representation. The movie explores the intricate relationship between the technology, regulation and social effects of mass media. Its aim is to serve as an educational and entertaining media literacy tool that can be enjoyed by everyone." 
I can't even find this image on their website. And I still am not entirely sure what's going on here with the Upworthy post. Is it really just saying, "Guys, read more"? Is that the payoff for "A Scarily Simple Way To Sabotage Your Life And Everyone Else's"? Congratulations Upworthy. This is such a disappointment, I can finally say that you really blew my mind! 
(by Bob Powers)