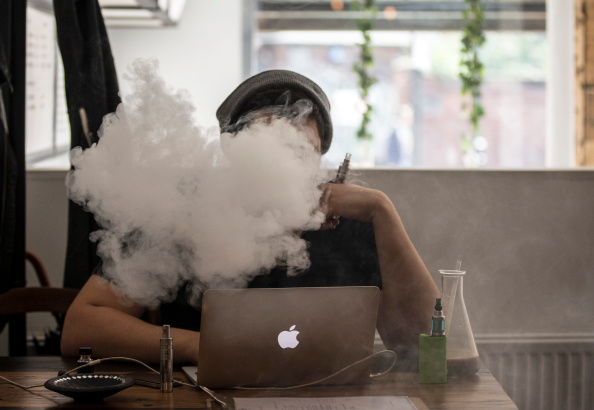 Now every room can become a steam room. (via Getty)
Sorry, "cray." Better luck next year, "bae" and "slacktivism." You're all trendy enough to have been worthy contenders, but not nearly as annoyingly popular as "vape," which has been named Word of the Year for 2014 by Oxford Dictionaries.
Here's how Oxford defines the word:
vape, verb
Inhale and exhale the vapour produced by an electronic cigarette or similar device
As in, "I wish that D-bag would vape somewhere else."
vape, noun
An electronic cigarette or similar device; an act of inhaling and exhaling the vapour produced by an electronic cigarette or similar device
As in, "Is my vape annoying you? Sorry, but I'm not breaking any laws. If you don't like my vape, breastfeed your baby somewhere else!"
According to Oxford research, use of the word has doubled in the past year. Happy Place research has concluded the word mostly comes up between bong rips in college dorm rooms, and by late-night TV viewers wondering what the hell happened to Stephen Dorff.
What started as a healthier alternative to cigarettes and bong loads has now become a multi-million dollar industry that continues to grow. And now that it's gone legit, there's no sign of it slowing down any time soon.
So, thanks for nothing, Oxford Dictionaries!
And congratulations to stoners everywhere, as well as those who have given up smoking but are still so hopelessly addicted to nicotine they're willing to annoy everyone around them with their steamy breath. You're all winners!
(by Jonathan Corbett)