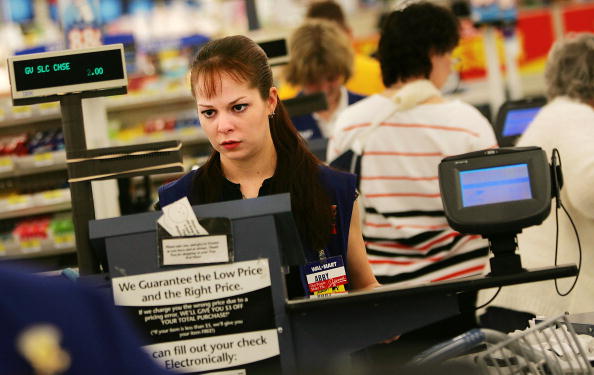 Lowest prices, guaranteed. (Via Getty Images)
In a world where Wal-Mart is dragging down the cost of retail labor, avoiding taxes by funneling money overseas, and running their trucks into our beloved comedians, finally: a win for the little guy. 
Wal-Mart has famously offered price-matching to anyone who brings proof of a competitor's lower price, and on Nov 13th they expanded that offer to certain online retailers, including Amazon.com. 
Their policy states, "We're committed to providing low prices every day, on everything. So if you find a current lower online price from an online retailer on an identical, in-stock product, tell us and we'll match it." 
Now, some very clever people have managed to take advantage of that offer by becoming that lower-priced online competitor. NBC News reports that sellers registered with Amazon have been creating legitimate-looking seller pages by offering the regularly priced $399 PS4 game console at $90, and then showing the cashier a screen shot of their site. 
Evidence of this scam working exist all over Twitter in the form of successful  Wal-Mart receipts. 
#WalMart tricked into selling $400 #PlayStation4 consoles for just $90 http://t.co/HFZ4vDKpSG #news pic.twitter.com/PTmQu5vaN5

— The_News_DIVA (@The_News_DIVA) November 20, 2014
It makes me wonder why they don't just sell it at $5. Maybe they're afraid that's just too low and will draw too much attention, but for a company who has used every possible loophole to avoid paying taxes, it seems only fair that their customers would use every possible loophole to get their merchandise on the cheap. You reap what you sow, ya know?
Hurry up and take advantage of this before they catch on and change the policy, because despite this request, this secret has already been "snitched."
Stop snitching RT @Kotaku: People are scamming Walmart into selling them PS4s at $50-$90: http://t.co/wSis4qKDqY pic.twitter.com/MRKnbOGhtT

— netw3rk (@netw3rk) November 19, 2014
UPDATE: Too late, it's over. Wal-Mart is on to everyone's scams and the only fraud they'll tolerate is their own. I said good day, sir!
(by Myka Fox)