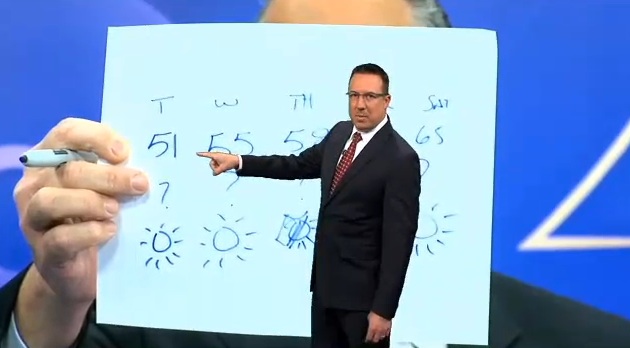 While the weather hits a low of "question mark," the WCIV crew hits a new low altogether.
The local ABC news affiliate in Charleston, SC calls their forecast the "Pin Point Weather," but today it could have been called the "Pen Point Weather," as anchors desperately scribbled on loose paper to help out meteorologist Dave Williams after their weather computers crashed.
Williams was trying to show the "mess in the northeast," but turned out there was a "mess with the weather computer." Coming to his aid, anchor Dean Stephens creates a "question and answer session," which was really just his informal way to help get the 5-day forecast out there. Dean Stephens and Victoria Hansen (off screen) complete the scene with hand-drawn scribblings of clouds and suns that could rival a kindergartner's.