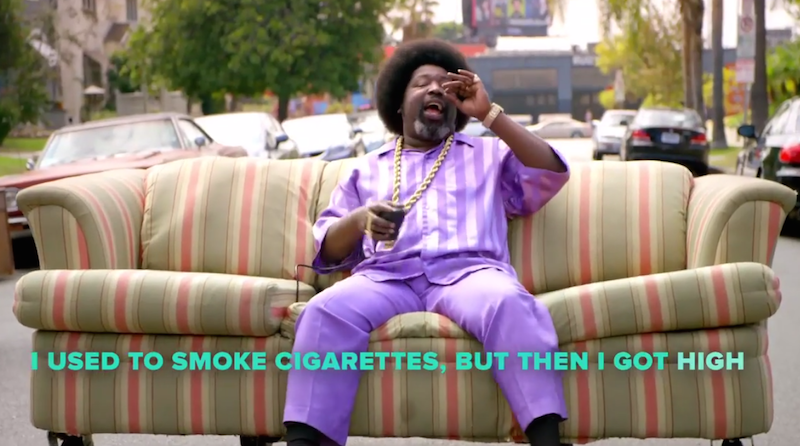 Does not apply to Jazz Cigarettes. 
As fun and silly as Afroman's 2001 hit "Because I Got High" was, it was always a song about the worst stereotypes about stoners (well, at least since society got over the 'Reefer Madness' phase of thinking people "jacked up on marijuana" would go on berserker crime sprees). It was, essentially, the greatest anti-marijuana song ever written. The narrator can't clean his room, fails school, becomes a deadbeat dad with no job, and finally ends up in jail. This is a little different than marijuana's current status as the substance of choice for the last 3 presidents, the best Olympic swimmer in history, and the entire company of Twitter.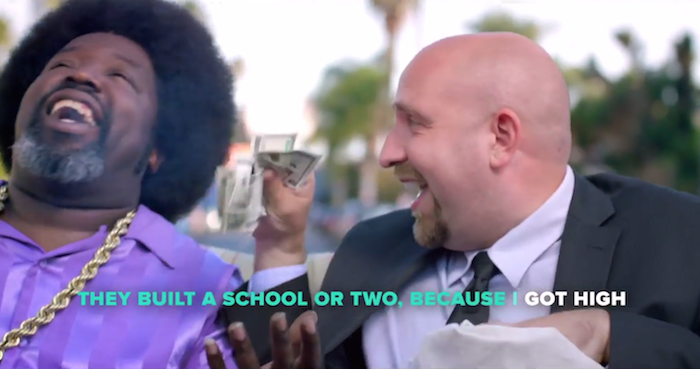 And kids didn't drop out to become drug dealers, because the industry is regulated.
Doesn't rhyme, though.
So, weed app WeedMaps and cannabis reform organization NORML hired Afroman to revisit his throwing-potheads-under-the-bus classic and focus instead on the ganja's more positive aspects, as well as the positive externalities of legalization. From directly curing ailments, to replacing society's worse habits of booze, pills and cigarettes, to supporting treatment and education through tax revenues.
So what are you waiting for? Whatever you're doing, stop it. You should be getting high.
(by Johnny McNulty)