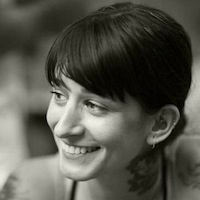 Filed by Jessie Dean Altman

|

May 31, 2017 @ 2:42pm
Dani Mathers, the former Playboy model who Snapchatted a picture of an unsuspecting nude 70-year-woman in July 2016, is speaking out for the first time since her sentencing on May 24. In an interview with ABC News, Mathers teared up as she explained how she's had to take refuge at her mother's house.
"To hide out at my mother's house at age 30 because of something I've done, it just felt really low," Mathers said. "I had lost my privacy after taking privacy from somebody else," she added, later.
In case you missed the whole debacle (which you probably haven't, but just in case), Mathers took a photo of a woman showering at an LA Fitness gym in Los Angeles, paired it with a picture of herself looking horrified, hand over mouth, and Snapchatted the images along with the text, "If I can't unsee this then you can't either." She said she was trying to send the message to a friend, not to all her Snapchat followers, but…come on. Either way, that's illegal and NOT COOL.
As a result of the backlash, Mathers lost her job and was banned from LA Fitness gyms for life. Then the police got involved. After pleading no contest to a charge of invasion of privacy, the 30-year-old model was given 30 days of community service (in the form of once-a-week graffiti removal duty), $60 in restitution to the woman whose privacy she so rudely invaded (SIXTY DOLLARS? big whoop), and three years of probation. She managed to avoid jail time altogether.
In the interview with ABC News, Mathers said of the woman at the gym, "I just want her to be able to move on and move forward in her life. And not feel judged, or that what she was doing was being ridiculed. Because it had nothing to do with that. And that I'm so sorry."
Dani Mathers swears that she didn't know she was breaking a law, saying, "I just wasn't thinking, to be honest."
She hasn't been able to get in touch with the woman she Snapchatted, but Mathers said, "I never meant to hurt her. I never ever intended on showing the world this photo. And that I hope that she could forgive me. I don't expect her to forget. I don't expect her to like me. I just, I really want her forgiveness."
It seems unlikely that the woman will ever forget what happened to her. Forgiveness? Who knows.
A post shared by Dani Mathers (@missdanimathers) on