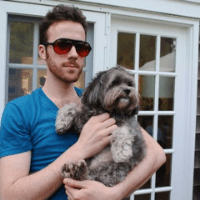 Filed by Miles Klee

|

Jun 17, 2017 @ 1:40pm
You may have heard that this summer's Shakespeare in the Park production, staged by New York's Public Theater, is Julius Caesar. If you passed either your 10th-grade English or history class, then you know the play involves the assassination of the Roman dictator. And, because Shakespeare's works are often adapted to address the current political climate, the Caesar of this play is styled to look a bit like President Donald Trump.
That doesn't sit well with Trump-supporting goons who lack any grasp of art or literature, many of whom are now openly threatening theater companies that have nothing to do with the Central Park production simply because they have "Shakespeare" in their name. But the backlash truly reached a hysterical pitch on Friday night, when two alt-right trolls interrupted the controversial show. The first, identified as Laura Loomer, got on stage to denounce "normalization of political violence against the right." Once she got hauled off the stage (on the way to getting arrested), the guy filming the outburst—Jack Posobiec—stood up and started calling everyone in the audience "Goebbels," as in the Nazi minister of propaganda during World War II.
Wow, guys, you did it! You... got kicked out of a Shakespeare play that continued without incident. Congratulations.
how come when that lady jumped onstage to yell at julius caesar shes a brave patriot but when i try to kiss the shrek man im 'a degenerate'

— merritt k (@merrittk) June 17, 2017
why don't people know what Julius Caesar is it was in Mean Girls

— Sarah Nicole (@snpsnpsnp) June 17, 2017
There is so much Julius Caesar signage in the park & he still STILL was unable to spell it correctly for his most important tweet https://t.co/2I7b7CAWnB

— Natalie Walker (@nwalks) June 17, 2017
The guy yelling "You're all gerbils" at a Shakespeare audience to defend Mr. Trump's honor was funnier than any standup performed last night

— Patrick Monahan (@pattymo) June 17, 2017
imo Shakespeare is just doing this to sell more tickets to his plays

— Pixelated Boat (@pixelatedboat) June 17, 2017
Why do I suddenly get the feeling that this is going to be a very long, hot, stupid summer? Maybe next year they should put on a Beckett play instead. Sure, it would mean lower attendance, but at least no right-wing illiterate would pretend to understand what it means.