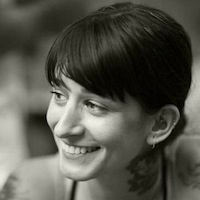 Filed by Jessie Dean Altman

|

Jan 04, 2016 @ 6:10pm
Julie Wright was driving in Western Australia—famous for kangaroos, spiders raining from the sky, Christmas in summer, Crocodile Dundee and, of course, sharks—when she shot a quick video of a car with a large shark strapped to its bull bar (a mechanism designed to prevent collision damage to the front of a vehicle). Safety Bay, indeed—safe for humans, maybe, but certainly not for sharks.
Just saw this in Safety Bay!! Had to look twice!! 󾌴󾌴

Posted by Julie Wright on Sunday, January 3, 2016
The shark's species hasn't been identified, although some people have speculated that it's a tiger shark. It's also worth noting that it may be too big to have been legally caught. Or maybe they just hit the shark while driving? It is Australia, after all.