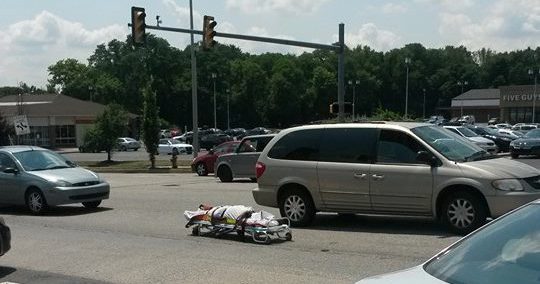 "My will specifically said IN the Five Guys parking lot, not NEAR." (via Facebook)
First of all: no one was hurt in this story, because the only person who was directly affected by this hearse "malfunction" was already dead. The body fell into the street in Feasterville, PA, near the popular Bucks Crossing Shopping Center and a Five Guys burger place (I don't know if the Five Guys is popular) at noon on Saturday. According to the coroner's office, something went wrong with the rear door latch of the hearse, causing a cadaver strapped to a gurney (fortunately, covered in a sheet) to slide out onto the busy Feasterville thoroughfare of Street Road. Yep, Street Road.
The coroner's office claims the error was discovered and the body recovered "within minutes." This picture was taken by pedestrian passer-by Jerry Bradley, who also helped put the gurney back into the hearse. The coroner's office also "deeply regrets" the incident, but let's be honest: the people of Feasterville are probably not too upset to have something to talk about for the next month-to-twenty-years.
(by Johnny McNulty)