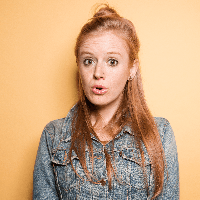 Filed by may wilkerson

|

Nov 11, 2016 @ 7:31pm
Well it's been one hell of a week in America. ICYMI: we elected a deeply divisive reality star to run the country. Drake and Taylor Swift might be dating. And then, earlier today Facebook told a bunch of people they were dead. That's an unnerving message to get, especially when you're alive.
In a weird ending to the weirdest possible week, around 3:45 pm, a banner at the top of many Facebook users' profiles showed a message that read: "We hope people who love [your name] will find comfort in the things others share to remember and celebrate [your] life."
Huh. Well, this was either a bug or a reflection on the current state of things in the USA.
Turns out, it's a bug—and an unintentional reflection on the current state of things in the USA. In a statement to The Huffington Post, Facebook (the entity! it speaks!) said the mass memorial messages were a "terrible error."
"For a brief period today, a message meant for memorialized profiles was mistakenly posted to other accounts," said a spokesman. "This was a terrible error that we have now fixed. We are very sorry that this happened and we worked as quickly as possible to fix it."
So, that solves it. You're not dead, and Facebook is very sorry. You may or may not be.