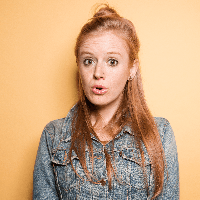 Filed by may wilkerson

|

Mar 07, 2017 @ 3:20pm
Here's a story that makes me grateful to be an only child: Twitter user Samuel McCrae decided to pull a prank on his sister four days ago by stealing her pet goldfish and replacing them with carrots. This is pretty hilarious, for everyone except the sister. Because she still hasn't noticed.
McCrae posted a photo of the switch on Twitter, where it has gone viral.
Here are the photos for comparison.
Twitter is waiting with baited breath for the sister to catch on.
@heteromeg I need another update.

— thursday girl (@NikkiLahvU2) March 6, 2017
She is not catching on.
Day 4 still hasn't said a thing

— McCræ (@SamuelAnnis) March 6, 2017
So either these were some very inert, carrot-like goldfish. Or she's a bad fish owner. Probably the latter.
People on Twitter are mad at the sister, and concerned for the fish.
is that a jug she didn't deserve to have goldfish anyways

— Taylor Nicole Dean (@taylorndean) March 7, 2017
.@SamuelAnnis good goldfish can't survive in that environment anyways I hope u gave them to someone who knows how to properly care for them

— REB (@Alabamizzle) March 7, 2017
where the fish at? Are they safe? She doesnt deserve them

— thursday girl (@NikkiLahvU2) March 6, 2017
But McCrae assures us not only are they safe—they are living in luxury.
They safe in my tank where they get fed regularly

— McCræ (@SamuelAnnis) March 6, 2017
Nice home AND they get to eat?? This does seem like a much better environment for fish than that measly jug. It's almost like this guy is playing a "prank" on his sister to cover up his empathy for animals.