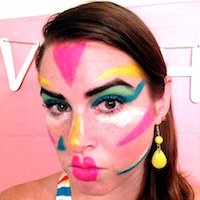 Filed by Ashley Bez

|

Jun 22, 2015 @ 5:00pm
Spark Your City turned the London Bridge into a wonderfully trippy rainbow-brick-road.
You're not in a video game, this is real life! If you live in London, your Monday probably sucks a little less than normal if you traversed the magical walkway that is currently the London Bridge. May these bright photos lift you from your beginning-of-the-week gloom.

Check out this colour popping piece of land art designed by @gemcairn #SparkYourCity #londonbridge pic.twitter.com/Qce0kkmMAQ
— Spark Your City (@sparkyourcity) June 22, 2015