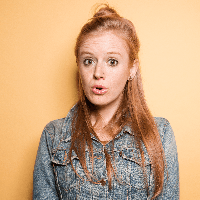 Filed by may wilkerson

|

Jan 12, 2017 @ 7:20pm
Today in bad decisions that did not end well: a man named Tony Welch decided to get something "a little different" as a gift for his wife, Dana. I would've suggested an exotic pet, like a parakeet or a pigmy goat.
But no, he went with a "tiny" "pocket-sized" taser purchased at a gun show. How romantic!
But before giving it to his wife, he decided to "test out" the "toy" on a "flesh & blood moving target." His first thought was his cat. And thank god he went with himself instead, or this story would be even more horrifying than it already is.
In gory and hilarious detail, Welch shared the entire story on Facebook and Imgur, as a warning to "all males" (maybe he knows that no woman would ever do this, and he's probably right):
TESTICLES NOWHERE TO BE FOUND!?
The story is not even over yet.
Luckily the story has a happy ending... for the wife.
Point taken, Tony. I will never, ever test out even the tiniest of tasers on myself or anyone else. In fact I hope to never even be in close proximity to a taser in my entire life after reading this story.
So, thank you for the warning. I'm sorry you got tased, bro. And I hope you find your testicles. Did you check under the couch cushions?