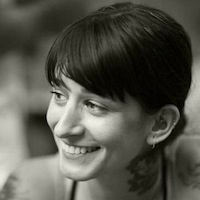 Filed by Jessie Dean Altman

|

Mar 10, 2016 @ 1:50pm
Scott Tanner, a Nova Scotian fisherman, was working on a trawler off the coast of Newfoundland, one month into a 42-day fishing expedition. When the nets were pulled up at the end of the day, he found himself looking at a very strange (and already dead) fish with fins that resembled feathered bird wings, a long pointy snout, and neon green eyes.
According to Tanner, the fish-thing was so weird looking that even the more-experienced members of the fishing crew had no clue what it was.