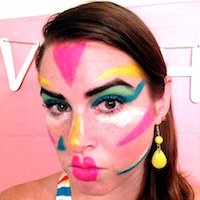 Filed by Ashley Bez

|

Sep 08, 2015 @ 10:50am
It's hard out there for a poet with a boring name like Michael Derrick Hudson.
The hardest part of being a poet is choosing the correct pen name. Apparently, run-of-the-mill whiteguy names just don't get any respect. That's why Michael Derrick Hudson, a librarian from Indiana, decided to adopt a new moniker after he couldn't get his poems published.
Michael went with the name "Yi-Fen Chou" and BOOM: instant success. Under his fake Chinese name, Michael got a poem accepted and published by The Best American Poetry 2015. Then he made a really bold move, he included the story of his fabricated name in his bio in the very same book, saying his poem "was rejected forty (40) times before I sent it out as Yi-Fen Chou. As Yi-Fen Chou it was rejected nine (9) times before Prairie Schooner [the publisher] took it." BURN (sort of).