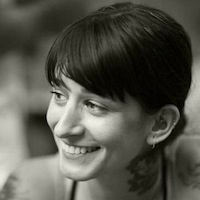 Filed by Jessie Dean Altman

|

Dec 16, 2016 @ 8:39am
Well, if this don't beat (off) all. A man trying to rob a sex toy store called Lotions & Lace in San Bernardino, California, was foiled by quick-thinking employees (and some sex toys used as weapons) on Wednesday night. Thankfully for us, it was all caught on video.
According to KABC News, the man walked into the store at around 9:45 p.m., as the store was closing up, with his face covered. He pointed a gun at the woman behind the cash register, but the employee, named Amy, wasn't having any of his nonsense. She told KABC, "With the gun, he walked in. I just thought he was trying to be funny, to scare us. But then I saw the gun and it was like, really? I don't have time for this." GIRL, GO. BOY, BYE.
The man reached over the counter and grabbed Amy, and that's when the other store employee flew into action, hurling dildos and other sex toys at the would-be robber.
That employee told KABC, "I think he was a coward. Coming in and trying to get over on two females and not realizing that were pretty feisty." DAMN STRAIGHT.
Eventually the man ran out empty-handed. Happily, it turns out that he was caught on surveillance camera outside the show without his face covered. That video has been released by the San Bernardino police, who are still looking for the man.