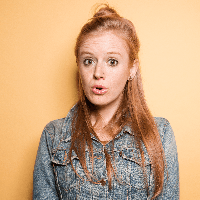 Filed by may wilkerson

|

Dec 07, 2016 @ 3:40pm
I present you Taniya Wright and Daniel Winn, news anchors from NBC affiliate KJRH in Tulsa, Oklahoma and my new best friends. In a clip posted on YouTube by FunnyAvenue, the anchors try and desperately fail to keep it together while discussing a previous report on a beaver that vandalized a store selling Christmas decorations. "The beavers I've seen are bigger ... and they don't look as friendly," says Winn. "So, I don't know, maybe I've seen my beavers in the wrong place."
That's when things go off the rails. "Beaver," in case you weren't paying attention on the playground in middle school, is a euphemism for female genitalia. And unless you've somehow matured since middle school unlike the rest of us, you, too, will be laughing by the end of this:
"I can't see," says Wright at one point. "I'm crying."
AND SHE IS. SHE'S LITERALLY CRYING.
Beavers! Hahahahhaha. Beavers! Get it? Yeah, I'm in my 30s. So what?