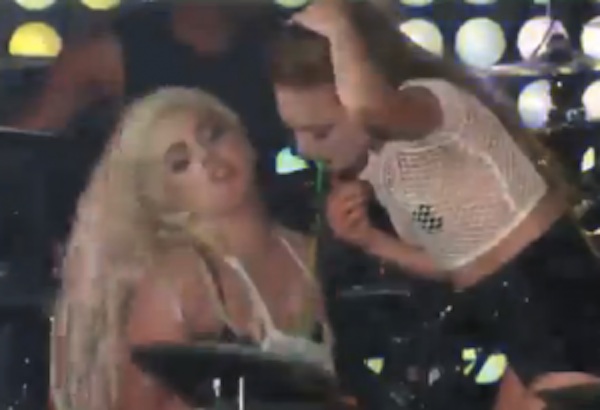 (screengrab via YouTube)
1. Lady Gaga got puked on for art. Let's get this over with, shall we? Apparently, Lady Gaga, aka the Queen of Doing Weird Stuff For Attention I Mean Pop, got puked on during her set at SXSW yesterday. Millie Brown, a UK-based "vomit painter," drinks soy milk dyed different colors and then vomits it up like paint. In this case, the color of choice was green—Happy St. Paddy's Day! Most of the YouTube coverage has been taken down, but Gawker still has the video if you're dying to see more.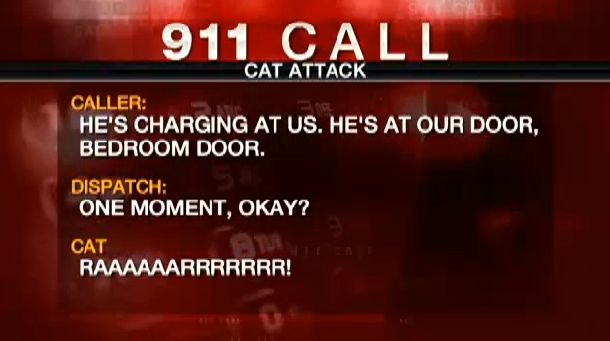 2. The cat who inspired a 911 call is getting professional help. Remember Lux, the 22-pound housecat who terrorized his family into hiding and forced them to call the police for help? As if that story wasn't weird enough, Lux is now getting professional psychological help. Sorry, we know cat mental health isn't a laughing matter. Perhaps Lux was the runt of the litter and has always felt the need to assert himself. Or maybe he had a bad trip on some catnip one time in college and was never the same. We just hope Lux gets the help he needs.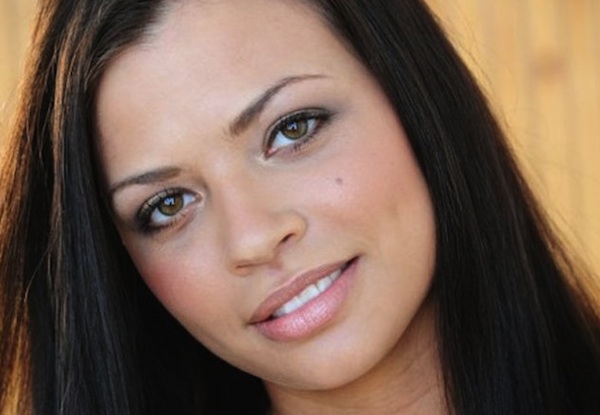 (via Facebook)
3. A model is suing Playboy after a golf tee in butt incident gone wrong. Do golf tee in butt incidents ever go right? That's the question model Liz Dickson should have asked herself before agreeing to let Kevin Klein, a radio host, hit a golf ball off a tee stuck between her buttocks at the Playboy Golf Finals two years ago. Klein missed, and Dickson "sustained severe bodily injuries, a portion of which are permanent," according to the lawsuit she has since filed against Playboy and Klein. Young women, there is an important lesson here, and that lesson is to never let any man hit a golf ball off a tee stuck in your butt.
4. An Irish pub held a turkey curling competition on a frozen parking lot. McGirk's, an Irish Pub in Chenango, New York, made the most of a frozen-over parking lot yesterday by holding a turkey curling competition. Turkey curling is when you do curling with frozen turkeys (duh). Said a participant, "It's a lot harder than you would think. I mean throwing a frozen turkey on ice is a little bit more difficult than you would think, especially for points." Harder than I would think, eh? That assumes I've contemplated frozen turkey curling before, which I have not. I have, however, contemplated cat curling.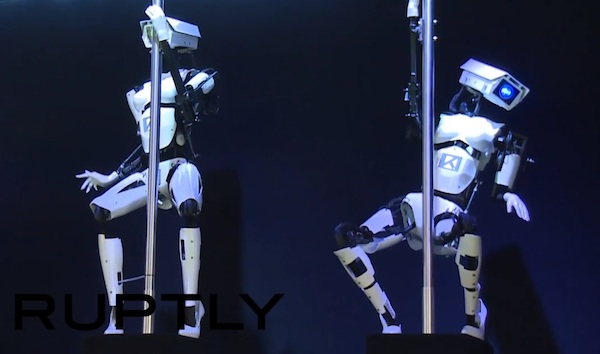 (screengrab via YouTube)
5. There are pole-dancing robots now. Tobit.Software, a German software company, has created a pair of horrifying robot strippers, and they stole the show at the CeBIT expo in Hanover this week. The ladies are named Tess and Lexy, and they are capable of grinding, shaking their hips, and freaking me the f*ck out. You can buy your own smartphone-controlled, pole-dancing robot for only $39,500, though you may not have any dollars leftover to make it rain. Luckily, robot strippers don't care about tips. They're just happy to make you extremely fearful for the future of society.
(by Shira Rachel Danan)