Sea cow. Sea cow swim. Sea cow swim all up in the spring like whatup, I got a big flock.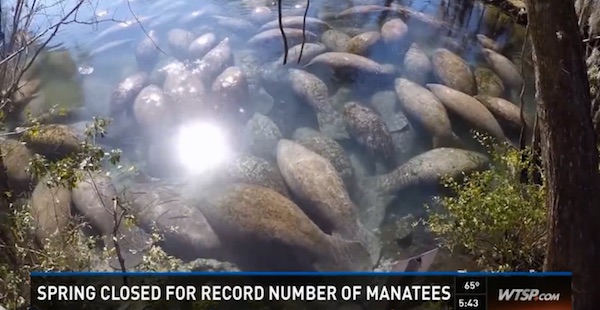 Can you spot the manatees among the boulders? Hint: there are no boulders.
(screengrab via WTSP)
The Three Sisters Springs in Florida are a popular tourist destination for people who want to swim in crystal-clear waters with the most relaxed beasts in the sea, manatees. There are usually a few dozen manatees hanging out there, as manatees do, but this winter's unusually cold weather has driven huge herds of the blimpish creatures inland to soak up the warm, shallow spring waters. This came to a (slow, fat) crescendo on Monday as an astonishing 300+ manatees swarmed into the springs between noon and 1:30pm, forcing the Springs to kick swimmers out of the crowded water.