Boston is currently experiencing its snowiest February in history. Since January 23, the city has had seven-and-a-half feet of snow.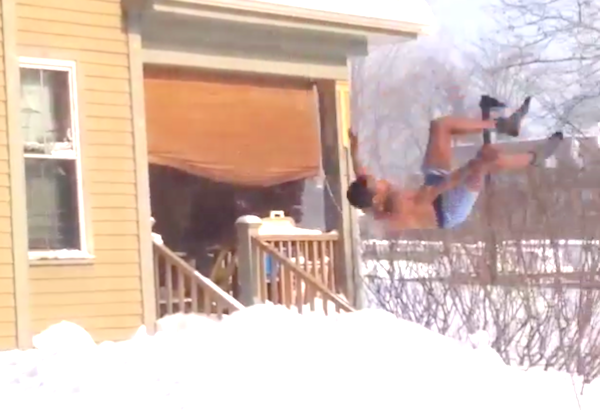 He's got the snow madness. (via Instagram)
Residents have been forced to find ways to amuse themselves.
And one of the stupidest ways is participating in the Boston Blizzard Challenge.






A video posted by MissFree (@missfreemarie) on

The challenge involves jumping from an upper-level window into the mounds of snow below. In theory, the snow cushions your fall, like a cold pile of feathers. In reality, you break your neck.
Boston Mayor Marty Walsh wants people to stop doing this. The #BostonBlizzardChallenge pic.twitter.com/aF4e2o9WIP
— Lee Harvey™ (@MusikFan4Life) February 18, 2015
Now, Mayor Martin J. Walsh has gotten involved, saying at a press conference yesterday that people need to stop being "foolish."
We're asking people to act responsibly in the city of Boston. This isn't Loon Mountain, this is the city of Boston, where we're trying to remove snow off of the street and it becomes very dangerous. And the last thing we want to do is respond to an emergency call where somebody jumped out of the window because they thought it was a funny thing to do.
You hear that, folks? This isn't Loon Mountain!






A video posted by Kiara Gomes (@kiki_gomaj) on

What he's saying makes sense until you remember how long people have been stuck indoors. What are they supposed to do—play Scrabble? No way, man. Desperate times call for idiotic antics.