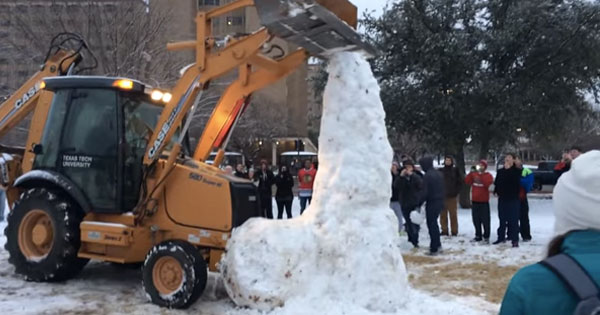 Snow penis, we hardly knew ye.
I write these words with a heavy heart, as I have just learned of the destruction (as well as the existence) of the 11-foot phallus lovingly crafted from snow by the students of Texas Tech University in Lubbock, Texas. Though the frozen sculpture only stood for a short while, it will forever represent our best efforts in penis-themed campus shenanigans.
And while its creators did fight valiantly to halt the mechanical menace of a university-hired bulldozing machine—forming human barricades and attempting to cover it in a layer of indestructible ice—their efforts ultimately proved fruitless, and Texas became a bit colder for the loss of great art:
Goodbye, 11-foot snow dick. You will always stand erect in our hearts and minds.