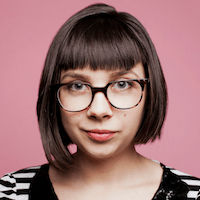 Filed by April Lavalle

|

Jun 09, 2016 @ 10:22am
Ilana Glazer, co-creator and star of Broad City, found out that some random dude was telling girls he wrote for her show, and in the biggest cock-block of all time, she called him out on it. By name. During a stand up set.
The liar in question, ID'ed by Glazer as Zach Jobin, probably had no idea that his lie would get around to the show's creator and become a three-minute long story performed for an audience at a bar in New York City.