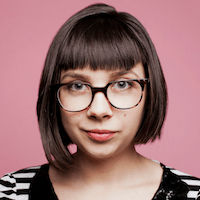 Filed by April Lavalle

|

May 18, 2017 @ 2:01pm
Chelsea Manning is officially a free woman after being released from prison Wednesday morning.
In 2013, Manning was sentenced to 35 years in jail after leaking over 750,000 pages of classified documents and videos to WikiLeaks. As one of his last acts in office, President Obama commuted Manning's sentence, and she was released after seven years behind bars.
Manning, who came out as transgender in prison, is rejoining the world that she helped to change, and is documenting her first moments as a civilian on her Twitter and newly formed Instagram account.
The first picture Manning uploaded was of these new-looking converse sneakers alongside the caption "First steps of freedom!!"
She also shared her first post-prison meal of pizza and champagne.
Good choices, btw.
Lastly, Manning shared a selfie.
Prior to her release, Manning kept followers updated with a countdown to the day she could walk free.
So what is next for Manning? Well, according to her Twitter, something pretty relatable:
Two more days until the freedom of civilian life ^_^ Now hunting for private #healthcare like millions of Americans =P

— Chelsea Manning (@xychelsea) May 15, 2017