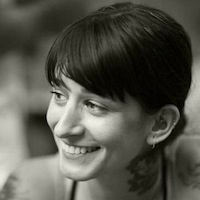 Filed by Jessie Dean Altman

|

Jul 05, 2016 @ 12:35pm
On Tuesday, someone who has since deleted their name posted an image of a bar order on Reddit, along with the text "My friend sent this to her bar chef."
The paper says
Urgent Order (Plz make cod n chips ASAP) (Weird man) (is at the bar) (bugging me I) (want him to go) (away).
What's a bar chef, exactly? It's the guy who makes food for people sitting at the bar. Probably. In any case, all women who have gotten stuck talking to a strange man for any period of time can commiserate with this lady's desperation to be rid of him. Especially if you're a bartender, as it seems this woman is, where you're physically stuck in one position and responsible for serving the very person annoying her.