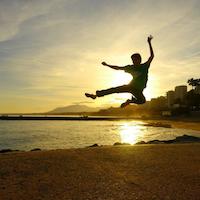 Filed by Mitchell Friedman

|

Oct 18, 2016 @ 11:23am
Apparently running out of material in their quest to record their game show, 35 Hours of Baba, for 35 straight hours, a French program ended up broadcasting a sexual assault on a model last Friday.
The 21-year-old, named Soraya, was playing the part of Kardashian West in a skit recreating the infamous robbery that took place in early October. A panelist on the show, Jean-Michel Maire, was supposed to "rescue" her.
The host of the show, Cyril Hanouna, then told Soraya to let Maire kiss her. According to Metro, she said "no."
Soraya explicitly and firmly says 'no' – Maire tries to say, 'She said yes!' but Soraya repeats again, 'I said no'.

Hanouna starts asking her why she won't let Maire kiss her, and she says that it's because people are watching. Maire then suggests 'Well we can do it backstage…' prompting laughter from Hanouna and the audience.
Maire finally goes in for a kiss despite Soraya's explicit denial of his advances. When she turns away, he redirects his lips to her breast instead.
The BBC reports that over 250 infuriated viewers registered complaints with the French media regulatory institution, the Superior Council of Audiovisual (CSA). The reaction on Twitter was also fierce.
"Can we be angry at Trump and tolerate this? This woman clearly said no. And he forced himself on her... This must change," wrote French politician Cécile Duflot.
Même dans une émission de divertissement, quand une femme dit non c'est non. J'ai saisi le CSA de cette agression sexuelle #TPMP

— laurence rossignol (@laurossignol) October 14, 2016
"Even as part of an entertainment programme, when a woman says no it means no. I have alerted the regulator about this sex assault," wrote Laurence Rossignol, the women's rights minister in France.
Maire responded with an apology tweet that the BBC calls "semi-serious."
Meanwhile, Soraya has responded to the controversy by saying, "I'm a human being, not just an object."
The CSA have promised to file an investigation into the incident.