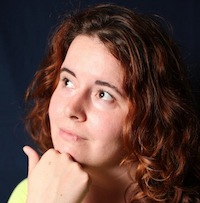 Filed by Aimee Lutkin

|

Dec 29, 2015 @ 9:20am
Hale Goetz is a writer who went viral on Reddit and Imgur when someone posted an anonymous photo of her as a junior from her high school yearbook. Next to it they posted a picture of her as she currently looks, along with the caption "Empowered Feminist." Goetz didn't remain anonymous, though, because after a friend saw the post and let her know that she was being mocked online for gaining weight, she decided to speak out.