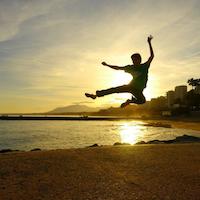 Filed by Mitchell Friedman

|

Jan 17, 2017 @ 10:54am
Actress Jessica Chastain expressed her disappointment regarding the Senate's "first big step" to repeal Obamacare and the effect it could have on women's access to birth control.
#BirthControl is no longer covered by health insurance. Congrats USA, you're doing your part to keep women out of the work force. #smfh 😠

— Jessica Chastain (@jes_chastain) January 13, 2017
If you are not ready to provide for a family, if you want to finish school, if you want to build a career, protect yourself. #IUD @PPact

— Jessica Chastain (@jes_chastain) January 13, 2017
Then, an unlikely opponent rose its beast-like head from the Twitterverse to roar its disapproval at Chastain. It was the rarely seen abstinence monster! Summoned to the corporeal world by the smell of Twitter beef. And by its master, Milwaukee Brewers pitcher Matt Garza.
People found Garza's take slightly hypocritical. For one, Garza once told another baseball player that his wife had no business criticizing him about baseball, a "mans game." Now here's this man, Garza, talking to a woman about her healthcare.
But most people just made fun of the fact that Garza has six kids but loves abstinence.
.@Gdeuceswild Yeahhh. How many ppl do you know who are abstinent? Don't lecture women about abstinence...especially when you had a kid at 18

— Nick Bolton (@NickBolton13) January 13, 2017
@Gdeuceswild good point. I just have a hamper full of filthy socks and my wife sits on the washing machine 12-6 pm and we're doing great

— Brandon McCarthy (@BMcCarthy32) January 13, 2017
@Gdeuceswild Matt, if you ever get to the postseason on your trash team, maybe abstain from giving up 4 runs in six innings like you did last time.

— Wesley Funcrusher (@wesleyfuncrushe) January 13, 2017