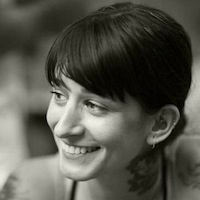 Filed by Jessie Dean Altman

|

Apr 15, 2016 @ 8:37am
Sometimes the best jokes are made by a double act, even if the person playing the "straight" role doesn't know they're playing it. For example, On April 12, Toronto based writer/Twitter user Ktkins (@voldemortsbicep) tweeted the joke:
my favorite game is to act like i can't understand something very simple when a man is explaining it to me to see how dumb he thinks i am

— ktkins (@voldemortsbicep) April 12, 2016
It's one of those great "it's funny 'cause it's true" jokes, but it gets even better when someone steps up to prove the "true" part right then and there.
It took just over an hour for the first man (@grhughes82) to mansplain Ktkin's own joke to her.
To which she replied (because how could she not?):
And Greg obliged her with another explanation, this time adding a patronizing compliment about how well she pulled off a joke without truly understanding the meaning.
@voldemortsbicep it's a form of dishonesty that you are using for self gain or amusement. It's actually quite sophisticated stuff well done

— greghughes (@grhughes82) April 12, 2016
Would he take the bait again?
No, but another man gladly stepped in.
Wow. That's…there's…just…he…wow.
Ktkins tweeted a screenshot of the whole back and forth, which, of course, quickly got thousands of faves and retweets on Twitter.
Someecards spoke briefly with Ktkins, #hero, about her tweet going viral and the ensuing reaction to it. When asked to expound upon her initial statement (which was the not incorrect "girls rule boys drool"), she said she's annoyed at the many misogynist jerks replying to her on Twitter ("they're like gnats"), but that she's gotten a lot of support and a lot of new feminist followers, so overall, she's really happy.
Her tweet itself was hilarious, but she didn't make those guys respond. They did that of their own volition. That part is "truly perfect," and an apt illustration of "irony," for any men who might not be familiar with the word.
And she's also got some "truly perfect" advice for any angry men on Twitter:
hey before you engage in some ironic misogyny how about don't

— ktkins (@voldemortsbicep) April 13, 2016