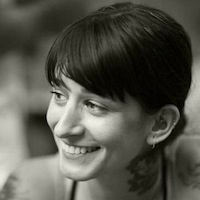 Filed by Jessie Dean Altman

|

Jun 30, 2016 @ 5:25pm
Oh, Florida (aka America's Australia), you just don't quit, do you? On Thursday morning in Ocala, FL, a woman named Leslie Mills was seriously in the mood for sex. When her amorous attempts didn't work, she thought an axe might. Look, it's important be spontaneous and creative in relationships.
According to The Smoking Gun, Mills, 26, returned from a night of drinking (drinking what? PCP?) and woke up the man in her house (whose relationship to Mills is as of yet unclear, to police as well as maybe Mills and the man himself), looking for some morning sex. He wasn't into it, and moved to the couch to get away from her, but mere relocation wasn't going to work in this case. Mills followed him to the couch and got on top of him, so he escaped to the bathroom and locked the door. Mere door-locking also wasn't going to work in this case. Mills began pounding on the door and managed to open it. And men say women don't think about sex.