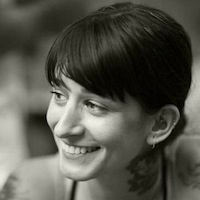 Filed by Jessie Dean Altman

|

Mar 17, 2016 @ 9:53am
There's a whole world of Barbie wannabes out there, but Nannette Hammond of Cincinnati, OH might be the new reigning Barbie queen. Hammond, 42, is a wife and mom of five who loves Barbie so much that she's spent over $500,000 getting plastic surgery to look like her.
She couldn't buy the height (she's only 5'3") but she could buy all of Barbie's other attributes: the breasts (Hammond is now a size 28H bra, after two boob jobs and a breast lift), smile (veneers), pout (lip filler), hair (extensions), face (Botox and semi-permanent makeup—what even is that?), and tan (she tans daily in the tanning salon in her house).