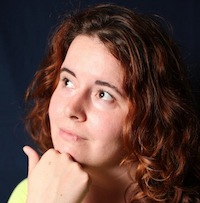 Filed by Aimee Lutkin

|

Nov 06, 2015 @ 12:27pm
A woman named Nora McInerny Purmort was working at a booth for a non-profit she founded to honor her late husband, who died of brain cancer about a year ago. After a pretty emotional day she she definitely wasn't smiling when a strange man approached her. She wrote about what happened next on Medium:
A few weeks ago I had an incredibly condescending and offensive experience wherein a very drunk man approached me to tell me I should smile. He clearly thought it was a way to flirt with me. You know, hey, I've been watching you (his opening line, not in any way unsettling for a woman to hear) and you should smile. You just don't look very nice when you're not smiling.

For context: I was manning the Still Kickin booth, hugging strangers and friends every ten seconds and crying with people over their dead people and my dead husband.