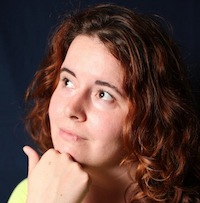 Filed by Aimee Lutkin

|

Nov 06, 2015 @ 3:40pm
Sadaf Taherian is an Iranian actress who has had to flee her home country after posting scandalous Instagram images such as this:
In Iran, a woman is expected to wear a hijab, or head scarf, in public. Some women want to, some don't, but it's basically not optional. Taherian's public images showing her uncovered head have been denounced as "immoral" by the Iranian government, and they've also gotten her a lot of threats. A spokesman for Iran's Ministry of Culture and lslamic Guidance, Hossein Noushabadi, released this statement about her and another actress who defended her: "As far as this ministry is concerned, these two individuals are no longer considered to be artists any more and do not have any right to act." A TV show starring Taherian was yanked off the state television network schedule soon after.