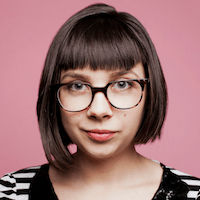 Filed by April Lavalle

|

Mar 07, 2017 @ 12:40pm
Exchanging notes in class is usually highly discouraged, but no teacher could be mad after finding this one.
A note that reads, "Do you want to join a club for female empowerment. We are the leaders" was discovered under a student's desk by a 4th-grade teacher. The teacher forwarded the picture of the note to her friend, author Elly Zupko (@SMLXist), who uploaded it to Twitter.
At time of publication, the tweet has over 80k likes and 24k retweets.
However, not everyone found the note inspiring and adorable. Some argued that the note was faked, while others felt it was inappropriate. Spoiler alert: this group was mostly comprised of men.
Luckily, Zupko fought the trolls like a real pro.
But as Zupko points out, the haters only enforced the need for young girls to start clubs like this.
Imagine feeling so threatened by a little girl wanting to start a club that you actually refuse to believe something is *real*.

— Elly (@SMLXist) March 7, 2017
The fact that so many people refuse to believe that a little girl wants to start a club for female empowerment means we NEED those clubs.

— Elly (@SMLXist) March 7, 2017
The future is female, indeed.