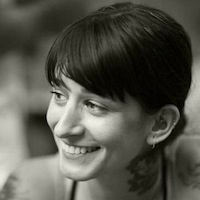 Filed by Jessie Dean Altman

|

May 30, 2016 @ 9:19am
On May 27, Sonia Ulrich posted a picture of herself and two friends doing the Charlie's Angels pose on Facebook, with the text "Don't Roofie Someone On Our Watch!" That's the sort of thing that tends to get people's attention—something her post definitely did.
GUESS WHO STOPPED A RAPE LAST NIGHT?! THESE GALS! Ok, so we're still recovering from the events, but we wanted to tell...

Posted by Sonia Ulrich on Friday, May 27, 2016
Ulrich's post explains the whole story. Apparently, she and 2 of her friends, Monica Kenyon and Maria Saltzer, were having drinks at a Santa Monica restaurant called Fig, when Kenyon noticed a man at another table put something into a woman's drink. To the ladies, it looked like the couple's first or second date. After quickly debating what to do, Ulrich went and found the man's date in the bathroom to warn her: "Hey! Um, this is kind of weird, but, uh, we saw the guy you were with put something in your drink."