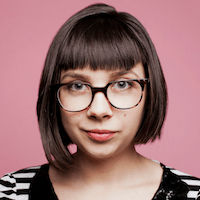 Filed by April Lavalle

|

Oct 19, 2016 @ 10:42am
At age 17, Lizzie Velásquez stumbled upon a YouTube video created by online bullies that dubbed her as the "World's Ugliest Woman." A few years later, Velásquez did her first TED Talk challenging beauty conventions as we know them.
Now 27, Velásquez has dedicated the last decade of her life to spreading self-love and acceptance through her YouTube channel, and motivational speaking engagements and books. What could be more beautiful than that?
Recently she spoke to Allure about what she thinks the true meaning of beauty is.
Velásquez is diagnosed with Neonatal Progeroid Syndrome as well as Marfan syndrome. She is unable to gain or retain any weight, and must eat every 20 minutes in order to survive. Despite her hardships, Velásquez has dedicated her life to making the world a more beautiful place for everyone—no matter what those dumb Internet trolls say.