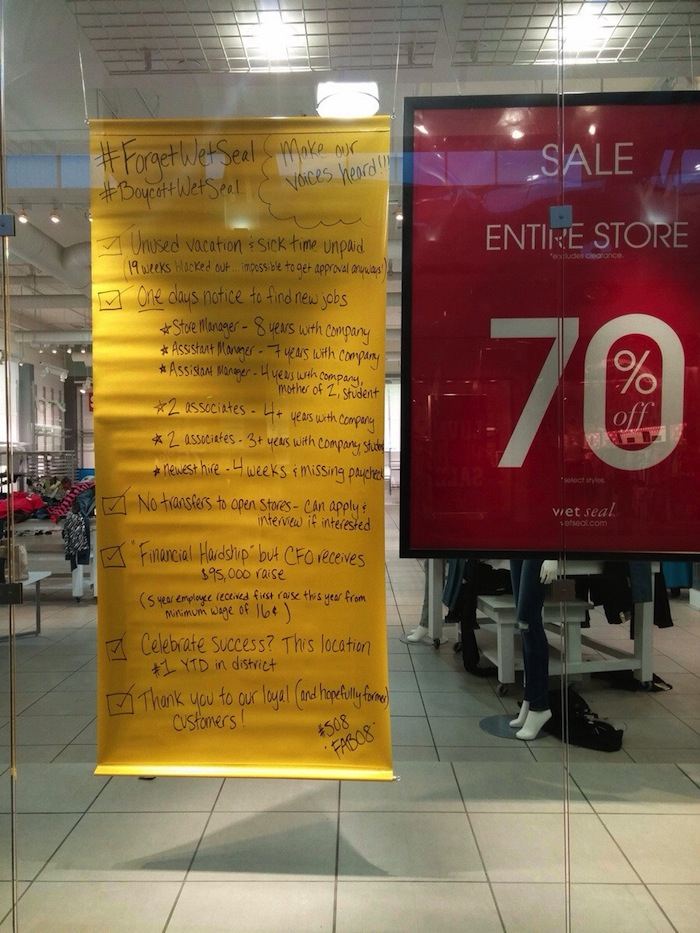 This is what happens when a store with seal in their name sells club gear. (via Imgur)
A sign was spotted today hanging inside a Wet Seal in Northgate Mall in Seattle calling for a boycott of the store due to management's poor treatment of and disloyalty to their employees. The complaints, scrawled on a long yellow banner next to the failing company's foreboding "Entire Store 70% Off Sale" sign explains the following mistreatment:
- Refusal to pay for unused vacation and sick days that were impossible to take due to their policy of blacking out 19 weeks of the year and difficult approval process.
- The firing of multiple long-term employees with only one day's notice. Two weeks is usually considered the minimum amount of notice to give someone a chance to start looking for a new job.
- Anyone who wants to transfer stores must interview at the new location in what must be the strangest interview ever. "What makes me think I'd be a good fit at Wet Seal? I've been working here for three years."
- The company is practically going out of business and yet the CFO gave himself a $95,000 raise. Meanwhile, an employee who gave five years to the company at minimum wage finally got a raise, too... an increase of sixteen cents an hour.
The sign thanks its customers for their loyalty, but is now encouraging people to boycott the store. Even though it's drastic sales suggest the company is going through an extended liquidation, customers are called upon to not let them unload those last shipments of furry hats or gauzy kimonos by posting about the injustices under the hashtags #ForgetWetSeal and #BoycottWetSeal.
Already, people on Twitter are doing their part.
#ForgetWetSeal #ClubWetSeal pic.twitter.com/NB96Ed7eEl

— Lydia Milano (@thelovelylydz) January 5, 2015
#boycottwetseal because corporations should exhibit some level of care for their employees - especially those who are loyal.

— David Post (@_davidpost_) January 5, 2015
Seattle @wetseal would have gotten away with this 20 years ago, but not today. #ForgetWetSeal #boycottWetSeal pic.twitter.com/04CuseKlAj

— David Jackson (@DavidJackson102) January 5, 2015
This is capitalism in America and it is also the reason many labor unions were formed. The intersection of morality & money #boycottwetseal

— Joel Cook (@SouthEdgewood) January 5, 2015
One redditor points out how important sharing this story is to promote proper treatment of lower-paid employeesm with the comment, "I love the Internet because 20 years ago companies could do shit like this without any consequences. Today, there's at least a chance the company will have to address this in order to avoid the negative publicity and backlash if the story gets out."
Considering how close the company is to bankruptcy, this boycott could just be the club that beats the Wet Seal.