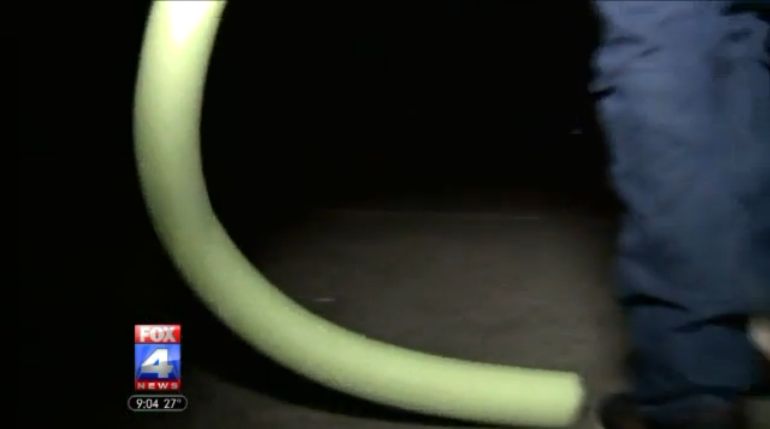 Justice isn't blind. (Via Fox2Now)
Congratulations to Gracemor Elementary School in Kansas City, you've just won the Worst School in America award!
It wasn't easy, but Gracemore Elementary managed to beat out all competitors in just one afternoon by taking a blind kid's cane away and replacing it with a pool noodle.
You heard right. In an unprecedented move, Gracemor Elementary not only took away 8-year-old Dakota Nafzinger's only method to navigate a world designed for sighted people, but, to seal the deal, they replaced it with a pool toy. Instead of being able to detect curbs and alert strangers to his blindness, Dakota, a child born without any eyes, has been relegated to alerting strangers that he might like to swim.
"It's a lot harder with this," Dakota told FOX2, describing his pool toy.
The school bus driver took the cane away because he claimed Dakota had used it to hit a kid, which might be grounds for taking the cane until Dakota was ready to get off the bus, but instead the school decided to hold on to his cane as punishment for two weeks. Clearly not a stable device for the blind, I can only assume giving Dakota the funoodle is just extra punishment in the form of humiliation.
Ease up on the poor kid! Lots of kids hit each other on the bus, that doesn't mean the school should amputate their arms and tell them to use a water wing as a prosthesis.
The cane was the property of the school, given to Dakota when he started the year, but still it had become something he relied on to not bump into things and fall down all the time. You know, it did what canes are supposed to do for blind people.
It is with these things in mind I am tasked to bestow Gracemor Elementary with the award of Worst School in America. Congratulations on winning this award, and on winning your petty battle with a blind child. Now that you are in possession of his cane, I hope you realize where you can stick it.
At this time I would also like to offer condolences to the school that made a 3rd grader unclog a toilet with his bare hands on their loss of this award. Better luck next year.