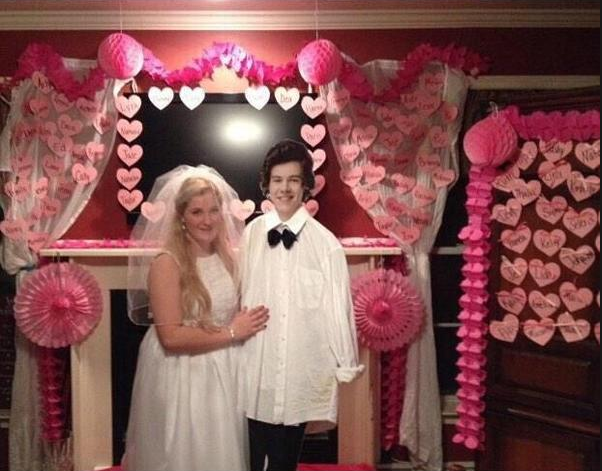 I hope she didn't get those hearts from a drug store March of Dimes program.
(Via Imgur)
When I hear the term "OD," I usually think of "overdose," but now I am equally likely to think of the boy band "One Direction." Especially now that it appears a girl named Allie has totally OD'd on OD. 
Acutely aware that her dreams of marrying Harry Styles will never come true (and now that she has done this, I doubt she will be allowed within 50 ft of him), Allie decided to do the last best thing: fake a marriage with his cardboard cutout. 
I mean, not that she would do this without his consent.  She also faked his proposal, too.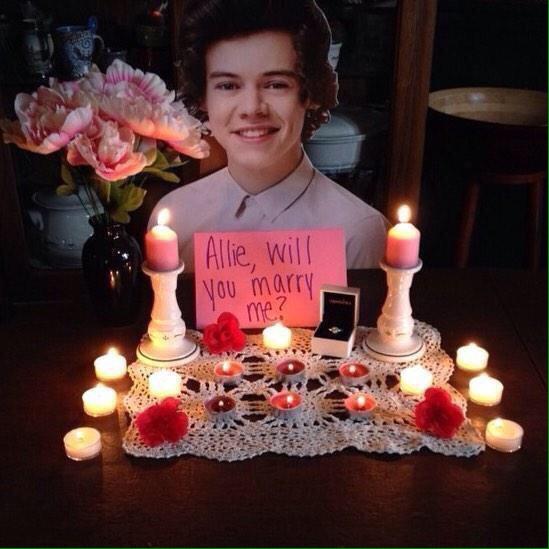 If you say "no," I'm burning this doily. (Via Imgur)
She enlisted his bandmates as groomsmen. None of them look terrified because their pictures have been taken during less terrifying times.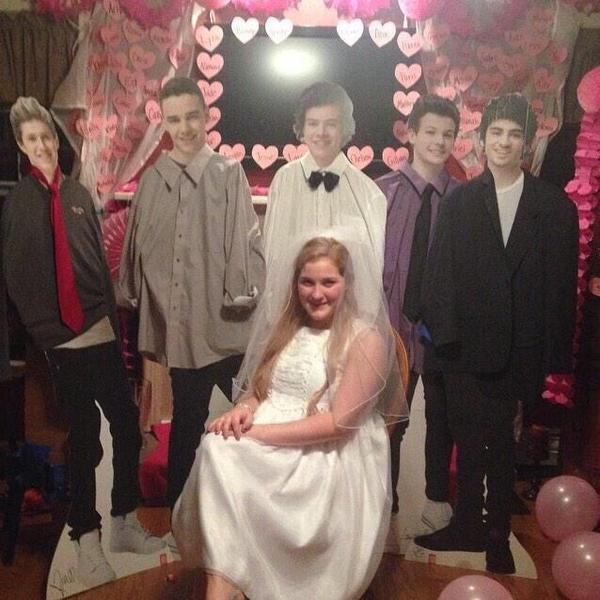 Look ma, no hands. (Via Imgur)
Apparently, despite her marriage to a man who used to be part of a refrigerator box, Allie also knows real-life humans. So, she enlisted those friends (enablers?) to dress up and be bridesmaids, and everyone else came as invited guests. Up in front, we can see the guy we can only assume Allie used to date before he lost out to a cardboard, handless Harry.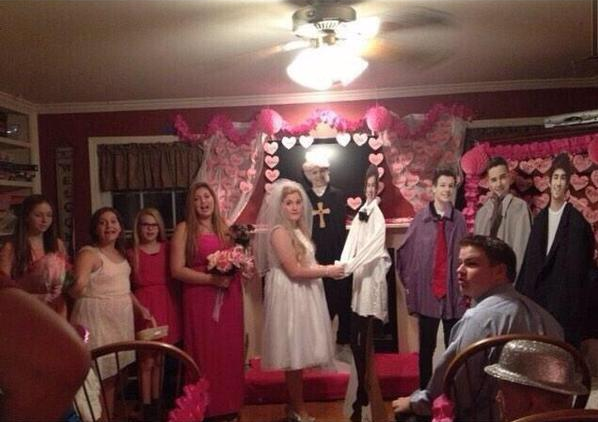 Sorry, bro. Next time, pick a girl with lower standards. (Via Imgur)
Dear Christmas on a cracker, what has this girl done? 
One Direction is the loneliest number that you'll ever know.
Redditor astairreed, who found and posted these photos, says this isn't the only weird thing he's seen One Direction fans do. In the comments, he tells of another fan who obsessively tweeted at Harry.
"Some of One Direction's fans are insane. I once saw a tweet from a girl saying basically "Please notice me harry I love you and will not stop tweeting till you reply". Next to that in brackets the girl had put (x45,121).

She had tweeted it to him 45 Thousand times. If you went on her profile it was just that sort of message with the number next to it constantly going up. People literally seem to dedicate their lives to them!"
Wow, yeah. THAT girl is crazy. 
(by Myka Fox)