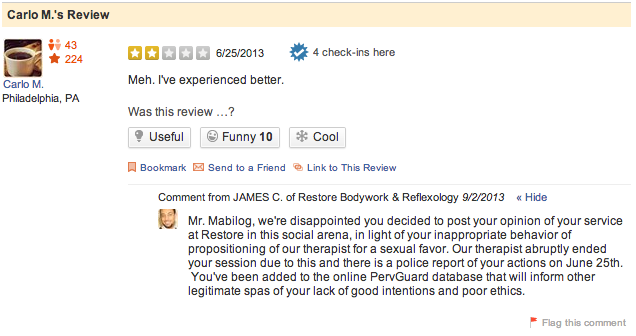 Yelp? More like, "Gulp."
According to its Yelp profile, the Restore Bodywork & Reflexology spa of Philadelphia, PA offers "Swedish Massage, Deep-tissue Massage, Hot-stone Massage, Sports Massage, Pain Prevention & Alleviation, Sciatica Relief, Cancer Massage, and Diabetic Massage." It's not clear which one of those Carlo M thought was code for "I roll over on my back and you let me ejaculate all over your hand." Maybe "Hot-stone"?
Is online review addiction a thing yet? You'd think that after being kicked out of a spa for trying to get a rub & tug and the police being involved, you'd want to scrub all record of you ever having been at that spa. But Carlo M just had to make his voice heard, even if all he had to say was "Meh." Consumers need to be informed!
The scary thing is, Carlo has a lot of positive reviews on his profile, including The US Airways Club and Boston Logan International Airport.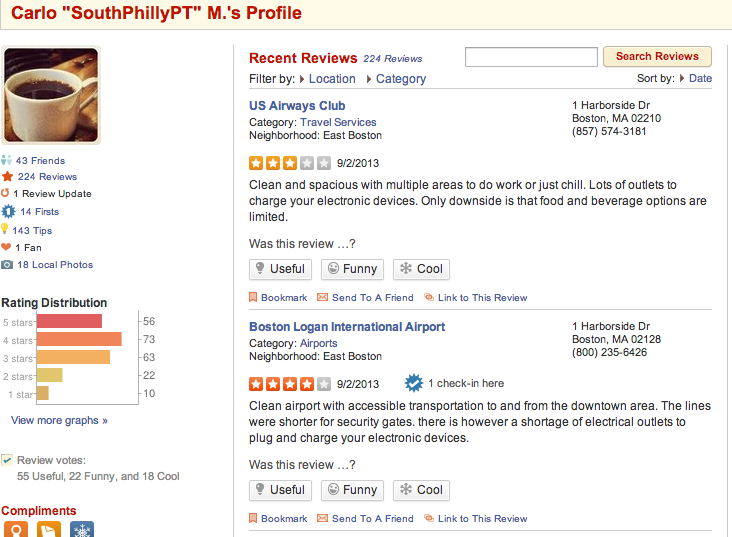 Neither scored a "Meh." So take note, travelers. The Logan airport is giving out hand jobs now.
(by Bob Powers)